US researchers develop super powerful micro-batteries
Thursday, April 18th 2013 - 15:26 UTC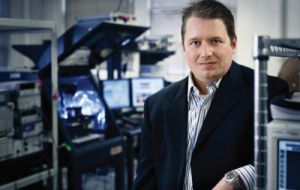 United States researchers claim to have developed the world's most powerful batteries that can jump-start a dead car and recharge your phone in the blink of an eye.
The micro-batteries are only a few millimetres in size, yet they pack such a punch that a driver could use a cell-phone powered by these batteries to recharge a dead car battery.
Developed by researchers at the University of Illinois at Urbana-Champaign, the new micro-batteries out-power even the best super capacitors and could drive new applications in radio communications and compact electronics.
"This is a whole new way to think about batteries. A battery can deliver far more power than anybody ever thought" William P King, the Bliss professor of mechanical science and engineering, said.
For applications that need a lot of power, like broadcasting a radio signal over a long distance, capacitors can release energy very quickly but can only store a small amount.
The new micro-batteries offer both power and energy, and by tweaking the structure a bit, the researchers can tune them over a wide range on the power-versus-energy scale.
The batteries owe their high performance to their internal three-dimensional micro-structure. Building on a novel fast-charging cathode design by materials science and engineering Professor Paul Braun's group, researchers developed a matching anode and then developed a new way to integrate the two components at the micro-scale to make a complete battery with superior performance.
With so much power, the batteries could enable sensors or radio signals that broadcast 30 times farther, or devices 30 times smaller.