Brazil conditions Paraguay's return to Mercosur to approval of Venezuela's membership
Tuesday, April 23rd 2013 - 02:04 UTC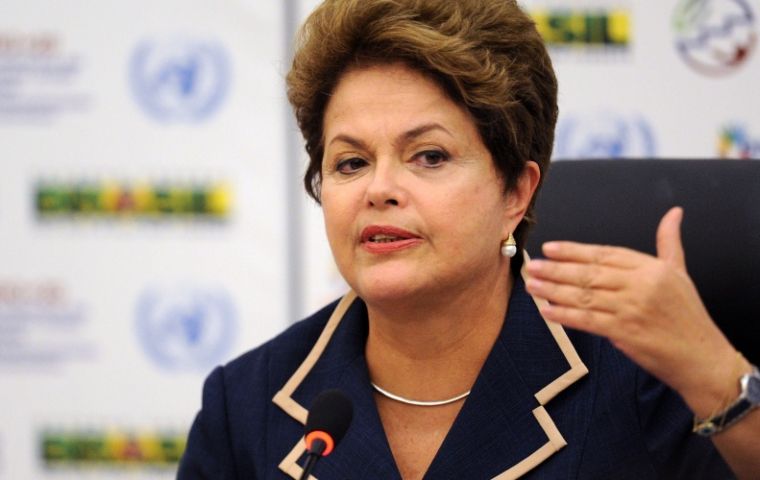 Brazil conditions the immediate return of Paraguay to Mercosur to the approval, by the new congress, of Venezuela's full incorporation to the trade block, according to the influential Folha de Sao Paulo quoting foreign ministry reliable sources.
The daily says that Itamaraty Palace (Foreign ministry seat) is 'optimistic' about the reincorporation of Paraguay to Mercosur that in June 2012 was suspended following the impeachment and removal by the Paraguayan Senate of Fernando Lugo and his replacement by Federico Lugo. Mercosur and Unasur conditioned Paraguay's return to fresh elections with all guarantees.
The suspension was understood to be until last Sunday's election, but according to Folha de Sao Paulo, this will not take place until August 15 when president-elect Horacio Cartes takes office. Apparently in the meantime President Dilma Rousseff will be looking at the numbers and names of the new Paraguayan Senate to see if Venezuela's full Mercosur incorporation approval is viable.
"For Brazil the (Paraguayan) Colorado party must use the death of Hugo Chavez as a pretext to break the congressional resistance to Venezuela's incorporation to Mercosur" points out the newspaper adding that 'it is expected that president-elect Cartes takes the initiative and sends to the Senate the Venezuelan incorporation protocol'.
In June 2012 taking advantage of Paraguay's suspension, the rest of Mercosur members, Argentina, Brazil and Paraguay approved the incorporation of Venezuela as a full member which was delayed since 2006. Paraguay protested legitimacy recalling that its Senate never approved such a move.
Folha de Sao Paulo also points out that President Dilma Rousseff is the only leader of the region not to talk with Cartes to congratulate him, as have done Argentina's Cristina Fernandez; Uruguay's Jose Mujica and Venezuela's, Nicolas Maduro. Cristina Fernandez and Mujica have invited Cartes to the Mercosur summit next June in Montevideo.
Once the Brazilian president calls Cartes, which is expected 'any moment' this marks the official recognition of the Brazilian government.