Newspaper reporters, "the worst job" in the US: low pay and high stress
Wednesday, April 24th 2013 - 23:06 UTC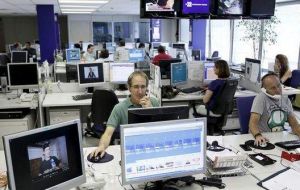 A new study has found that newspaper reporters have the "worst job" in the United States in 2012. CareerCast.com said that "low pay and high stress" are the main reasons why the job is considered the "worst."
"Ever-shrinking newsrooms, dwindling budgets and competition from Internet businesses have created very difficult conditions for newspaper reporters, which has been ranked as this year's worst job," the website said in its Jobs Rated report.
Traditional newspapers are being imperilled by online news entities, causing the number of newspaper reporter jobs to shrink by 6% by 2020, the report said, citing U.S. government statistics.
"I covered crime, so when breaking news happened, I had to be there. And when editors called at night with questions, I had to take the calls" Rochelle Gilken, who was a crime reporter for six years with the Palm Beach Post, said on the website.
Paul Gillin, who founded NewspaperDeathWatch.com, a website that chronicles the decline of the newspaper industry, said that newspapers have not responded to consumer changes "at all."
"I saw that once [the decline] hit, it would hit very hard and very quickly," he said.
The reasons why newspaper reporting can be considered stressful includes quick deadlines and the fact that others can read your work and point out errors, or simply have problems with it, according to Poynter.com.
"You're essentially in demand all the time. Clearly there are times when you're off, but if something happens on your beat or you're in a small town, you need to drop what you're doing and go to work," said Tony Lee, publisher of CareerCast, according to Poynter.
And he added that the demands have increased as online media proliferated.
"The work environment has actually continued to worsen because newspaper reporters before, you were responsible for writing your article and having it in on deadline for printing the next day," he said.
"But now, you're also responsible for tweeting all day, perhaps writing a blog, perhaps taking video when you go to that school-board meeting. You're responsible for doing more in the same amount of time. So the job has become significantly more demanding".