Shackleton's centenary scholarship to encourage scientific research in South Atlantic and Antarctica
Friday, April 26th 2013 - 22:42 UTC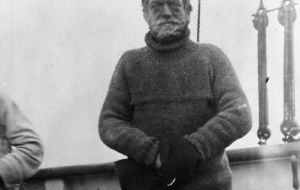 By Harold Briley - The Falkland Islands, South Georgia or the British Antarctic Territories stand to benefit from an ambitious science research project to commemorate Ernest Shackleton's 1914 trans-Antarctic expedition.
The many events marking next year's centenary include a valuable £10,000 scholarship to encourage scientific research relating to the region. This initiative has been launched by the Shackleton Scholarship Fund (SSF) for what it calls 'flagship' research in the natural or social sciences.
A scientist or a team of scientists from anywhere in the world is invited to apply for the scholarship before the deadline of September 15 this year.
The SSF was set up in 1995 to commemorate the lives of the explorer and his son, Edward, Lord Shackleton. Since its inception, the Fund has allocated about £12,000 each year to award nearly a hundred academic scholarships for research projects and also 'quality of life' awards to benefit the Falkland Islands including visits by experts coaching sport, the arts and music.
The Shackleton centenary scholarship is its most ambitious and most valuable so far.
The Governor of the Falkland Islands, Nigel Haywood, who is Chairman of the Fund's Stanley Committee, describes the scholarship as an opportunity for high-impact academic study and a fitting tribute to Ernest Shackleton.
Professor David Walton, an eminent Antarctic scientist and member of the Fund's London Committee, said the scholarship will fund serious research in the continuing quest to understand Antarctica and the surrounding countries.
Shackleton's expedition was hailed as one of the most incredible feats of endurance and survival of all time. It was not just a challenge to penetrate uncharted territory.
It was also a serious scientific expedition to gather knowledge important to the world's well being from a unique treasure trove of secrets frozen in time for centuries. Shackleton's Antarctic expedition included not just navigators and crew but also four scientists – a geologist, a meteorologist, a physicist and a biologist, as well as two surgeons.
So the researcher or researchers awarded the centenary scholarship will be treading in illustrious footsteps.
Shackleton's expedition stalled when his ship, 'Endurance', was crushed by the ice and sank. But he turned tragedy into triumph by leading all 28 members to safety, unharmed by their two-year ordeal. His lifeboat, 'James Caird', also survived to earn an honored berth inside his old school, Dulwich College, far from the tempestuous seas which buffeted it almost to destruction.
Uruguay and finally Chile provided ships to Shackleton for the rescue effort, which was finally accomplished by a Chilean navy ship and the seamanship of its Chilean crew. The whole adventure was captured in brilliant pictures by the expedition's official Australian photographer, Frank Hurley.
Throughout his Antarctic ordeals, Shackleton suffered ill-health and he died of heart failure, aged 48, on a subsequent expedition to circumnavigate Antarctica. He is buried in South Georgia.
Lord Shackleton, who pioneered Falkland Islands' development after the 1982 Argentine invasion, pursued a different profession from his father's - that of politics – but maintained a life-long interest in science. As a senior Government Minister, he used his influence to promote interest in the Antarctic and its scientific value.
He worked assiduously for its preservation through the Antarctic Treaty and as President for many years of Parliament's Scientific Committee and of the Royal Geographical Society.
For both Shackletons, the £10,000 centenary scholarship is particularly appropriate.
Applications should be made to the Fund's website www. shackletonfund.com before the deadline of 15 September this year to carry out the project in 2014.