Brazil' Vale leaves Argentina after accord to pay workers and contractors
Monday, April 29th 2013 - 04:43 UTC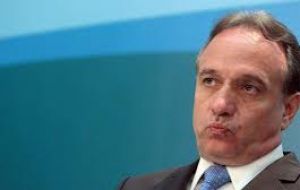 Brazilian mining giant Vale SA will pay two and a half months' salary to workers in Argentina as part of an agreement signed on Friday allowing the miner to exit the 6 billion dollars Rio Colorado potash and fertilizer project.
The payments will go to about 4.900 subcontractors, a spokeswoman said on Saturday, declining to give further details on the cost of the accord.
The agreement was reached with delegates from the construction union, UOCRA, and with contractors Techint, Odebrecht, Cartellone, Distrocuyo y Skanska, Chediack and Milicic.
The agreement could put an end to months of uncertainty for Vale, which suspended work on the Mendoza province fertilizer project in December and announced its intention to pull out in March.
Since its decision to exit, Vale and Argentina and Mendoza's governments have been at loggerheads over the fate of workers at the site.
People familiar with Vale's plans have said the company, the world's second-biggest miner, planned to sell the project in efforts to recoup the 2.2 billion dollars it has already spent on the mine and on railway and port improvements needed to move the potash to market.
"There has been a variation of economic fundamentals" said the company explaining its decision.
Vale complained that the government did not grant the fiscal and foreign exchange benefits promised. As a consequence the cost of the project more than doubled alleged the Brazilian company besides having ongoing problems with the trade unions.
Vale announced last 9 April it had decided to abandon the mega-project because the cost of the project from the original 6 billion had ballooned to 12 billion dollars. However there were promises to counter the extra costs by providing fiscal and foreign exchange benefits.
The Brazilian conglomerate CEO Murilo Ferreira said last week that conversations with Argentine authorities were geared so that the company could leave Argentina in "the most quiet and peaceful way possible".
The understanding was first anticipated late Friday after Brazilian president Dilma Rousseff had left Argentina following a full day of negotiations with her peer Cristina Fernandez. At a joint press conference Rousseff said "we are convinced that Vale will find the possible path to reach an agreement with Argentina", said the Brazilian leader.
"It's a very regretful end to the project" said UOCRA Mendoza delegate who is active in the negotiations.
"Vale's exit was done in a most untimely way. That is why we are defending the rights of the workers" said Mendoza governor Francisco Perez. He added that there a couple of Chinese companies interested in taking over the project.
But he admitted "this does happen from one day to another and Vale want to recover the 2.2bn they have invested; this takes time and will have an impact for Mendoza", said Perez.

According to Buenos Aires media reports when Perez recently visited China and India he was asked about Argentine inflation and the taking over of YPF from Spain's Repsol.