Venezuelan opposition formally challenges Maduro's victory in April's snap election
Friday, May 3rd 2013 - 06:09 UTC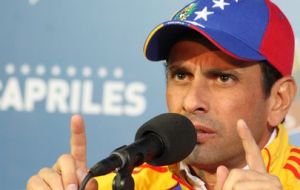 The Venezuelan opposition on Thursday challenged the results of last month's presidential poll won by the late Hugo Chavez's successor, further muddying an already messy transition to life without the divisive leader. The formal challenge was done with the Supreme Court, despite allegations the tribunal is loaded with pro-Chavez judges and certain to reject the challenge.
Opposition coalition official Ramon Jose Medina said the complaint alleges "bribery, violence and fraud" throughout the electoral process that ended in victory for Chavez heir Nicolas Maduro over rival Henrique Capriles.
This step was in essence a necessary formality before the opposition takes its case to the Inter-American Court of Human Rights -- part of the Organization of American States.
Maduro, a former bus driver, won the April 14 election by a slim margin of just 1.5 percentage points, according to the National Electoral Council. But Capriles, who lost to Chavez himself by 11 points in elections, held back in October, has cited multiple irregularities and said the government stole the snap election called after Chavez -- the ubiquitous and garrulous crowd-pleaser who had been in power since 1998 -- died of cancer in March.
An audit launched by the election council Monday is a superficial "farce" because it is only examining the electronic voting system itself and not physical records of the April election, Capriles said Wednesday.
Tensions have been running very high since the election to replace the bombastic, larger than life Chavez.
He used Venezuela's vast oil wealth to fund programs for the poor, developing an almost cult-like following among them, but was loathed by wealthier Venezuelans who said he turned the economy into an inflation-ridden basket case and oversaw a huge rise in violent street crime corruption and squandering.
In protests right after last month's voting, at least nine people died and dozens more were injured.
Opposition and pro-government lawmakers fought with their fists and their feet in a spectacular brawl in congress on Tuesday. And the two sides held dueling May Day marches on Wednesday, with Maduro calling Capriles a "crybaby" who could not accept defeat.