Rousseff creates ministry for small businesses and announces soft loans
Tuesday, May 7th 2013 - 09:00 UTC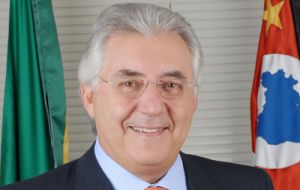 Brazilian President Dilma Rousseff announced on Monday a reduction in the interest rate on public loans for owners of small businesses from 8% to 5% and inaugurated the Secretariat for Micro and Small Businesses which will have the category of a ministry.
"The question of small businesses is indispensable for the country's future and present," said Rousseff during the Monday ceremony installing the new board of directors of the Sao Paulo state Federation of Trade Associations.
The change in the government lending program is scheduled to take effect in late May.
Rousseff emphasized "the short amount of time" it required to mobilize the several sectors that achieved the reduction.
"The government has an unquestionable commitment to small businesses," the president emphasized in commenting upon "the 3 million businessmen registered in the Individual Micro-entrepreneur program".
She added that the small businesses program is a powerful instrument for the creation of jobs and formalizing such enterprises. "Small businesses created 120.000 jobs last year, besides improving their own performance and profits".
Rousseff said that government banks will provide up to 15.000 Reais (approx 7.500 dollars) to small businesses this year with the lower interest rates as of May 31. The program to promote small businesses last year gave credits equivalent to 4.6 billion Reasi (approx 2.3bn dollars).
According to official data there are six million micro and small businesses in Brazil which generated 40% of the 15 million new jobs created from 2001 to 2011. A micro business is described as one that has up to 19 full time staff, while small businesses, those with 20 to 99 full time employees.
In retailing and services the numbers are lower: up to 9 and from 9 to 49 staff.
In related news President Rousseff also named a businessman and elected official, Guilherme Afif Domingos as the head of the newly created Secretary of Micro and Small Businesses which has full ministry status.
Afif Domingos, 69, is currently Deputy Governor of the state of Sao Paulo and belongs to the Social Democratic Party, a small centrist party, started two years ago and which is part of the ruling coalition.
The new Secretary has been president of the Service and Support Council for Micro and Small Businesses and has also headed the Sao Paulo Commerce Association.
According to the official decree the new Secretary will be involved in drafting policies to support micro and small businesses and will depend directly from the Brazilian Presidency which coordinates its work. Until now this area was under the umbrella of the Development, Industry and Foreign Trade ministry.