Fiat plans to invest 7bn dollars in next three years to remain main automaker in Brazil
Wednesday, May 8th 2013 - 09:02 UTC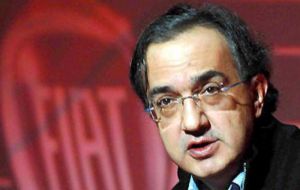 Italy's carmaker Fiat is upping its stake in Brazil, pouring about 7 billion dollars into local investments by 2016, according to a plan its CEO Sergio Marchionne handed President Dilma Rousseff on Monday.
The company's plans expand on an earlier outline that called for about 4 billion dollars in investment between 2011and 2014, state news agency Agencia Brasil reported.
The outlays will fund building and expansions of factories in Brazil, the agency said.
The investment by Fiat, Brazil's biggest automaker, will create about 7,700 jobs directly and another 12,000 indirectly nationwide in the South American powerhouse.
Brazil is the world's fourth largest car market. It saw record sales of 3.8 million vehicles in 2012.