Reassurance for Falklands and Gibraltar
Wednesday, May 8th 2013 - 19:48 UTC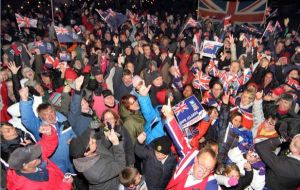 By Harold Briley from London - The Falkland Islands and Gibraltar have been reassured by the British Government that it will protect their right to choose their own way of government. The pledge was contained in the Government's programmer and new laws for the forthcoming session of Parliament, outlined in the traditional Queen's Speech to both Houses of Parliament.
The Queen said: "My Government will ensure the security, good governance and development of the Overseas Territories, including by protecting the Falkland Islanders' and Gibraltarians' right to determine their political futures".
This was a clear message to the Argentine and Spanish Governments that Britain is determined to defend the rights of these British territories which have been subject to diplomatic pressure and economic harassment in the long-standing disputes over sovereignty.
Tensions over the Falkland Islands have intensified since the 30th anniversary of the 1982 conflict and the discovery of offshore oil.
Argentina's President, Cristina Fernandez de Kirchner, has pursued a belligerent policy for years demanding talks for transfer of sovereignty, which the United Kingdom has strongly resisted and condemned.
A referendum in the Falkland Islands in March resulted in a near one hundred per cent vote for the Islands to remain British.
The dispute over Gibraltar has also flared up with local fishing rows and incursions by Spanish police and naval boats into British Gibraltar territorial waters.
The Queen's speech announced new laws to be introduced by the Government to restrict immigration, discouraging those who make no contribution to the economy and exploit the social benefits system. Immigrants who can make a positive contribution such as people with skills and students will be encouraged. Proposed new laws will make it easier to deport foreign criminals in Britain illegally and make it harder for them to cite human rights to avoid expulsion.