Timerman corrects Astori: relations with Uruguay are going through 'a good moment'
Thursday, May 9th 2013 - 05:19 UTC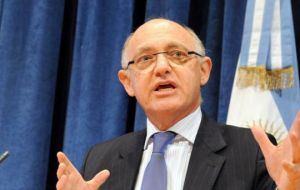 Argentine Foreign minister Hector Timerman said that relations with Uruguay are going through "a good moment", contrary to recent statements from Uruguayan Vice-president Danilo Astori, and described as 'false' the information that two Falklands' flagged fishing vessels had called into Uruguayan ports.
"It is not true that relations with Uruguay are going through their worse moment or anything like it. They are going through a good moment in a delicate situation, in a changing world where we have to negotiate important issues such as how relations of Mercosur with the European Union are going to be", said Timerman on Wednesday.
He was replying to earlier in the week statements from Uruguay's Vice president Danilo Astori who stated that bilateral relations with Argentina are "at their worst moment in history".
"In Uruguay many times they make domestic politics with Argentina and there is nothing worse than to involve foreign policy issues in domestic policies. What Astori said does not represent reality and what the majority of the Uruguayan people think", insisted the Argentine official.
Timerman also rejected the alleged arrival of Falklands' flagged fishing vessels to Uruguayan ports given the regional bar on such vessels agreed by Mercosur and Unasur. The news was first published in the Uruguayan media.
"It's false: Uruguay is one of the country's with the most consistent position in support of Argentina's sovereignty claim over the Malvinas. I have no doubt about this".
Apparently two British flagged vessels did call in Uruguayan ports. One of them 'Argos Galicia' called at Punta del Este, where crew members came ashore and after taking provisions left for Spain.
The second vessel, 'Chicha Touza' called at Montevideo where it transferred over a thousand tons of squid blocks and 100 tons of fish in boxes with final destination Spain, and then supposedly returned to the South Atlantic.
Alberto Diaz head of the Uruguayan ports administration supported Timerman's statements and told local Montevideo radio stations that "we have strict instructions that if Falklands' flagged vessels come, we can't receive them".
"The information issue is important, because there are many similar ships and fishing vessels and this makes it a complex situation. We have to look to see if these vessels have been coming and our teams are looking into it", added Diaz.