Brazil raises 800million dollars in bond sales: 750m in US and EU; 50m in Asia
Saturday, May 11th 2013 - 05:40 UTC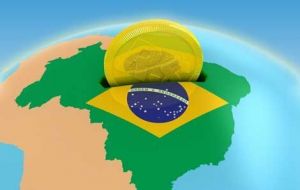 Brazil succeeded in selling 50 million US dollars worth of dollar-denominated government bonds in Asian markets on Friday, the Treasury Department announced.
The bonds sold are due on 5 January 2023, with a yield of 2.75% a year. The operation came one day after the Brazilian government raised 750-million-dollar from bonds due in January 2023 in European and US markets.
It was the first issuance of global bonds for a total 800 million dollars in foreign currency since September 2012 when Brazil sold 1.35-billion-dollar bonds (100 million dollars in Asian markets and 1.25 billion in European and U.S. markets).
Barclays Capital and Citicorp managed the transaction.
The Brazilian government also announced its intention to make another issue in December.
Bonds allow the government to borrow from foreign investors by promising to return the investment together with a certain yield within a predetermined time range.
Brazil's sovereign credit ratings in international agencies have improved in the past years. The country's bonds in foreign currency are currently rated Baa2 at Moody's and BBB at Fitch Ratings and Standard & Poor's Ratings.