German president in Brazil to promote trade and investments
Monday, May 13th 2013 - 04:08 UTC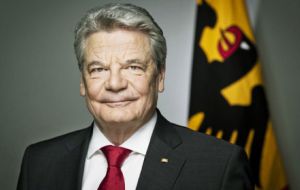 German President Joachim Gauck arrived on Sunday to Brazil with economic and trade issues as the centre of his visit. The trip to Sao Paulo marks the start of the Year of Germany in Brazil, which Gauck's predecessor Christian Wulff agreed on with Brazilian President Dilma Rousseff in May 2011.
German Chancellor Angela Merkel has visited Brazil once during her term, in 2008. Last year she cancelled participation in the UN Conference on Sustainable Development known as Rio+20, which disappointed Brazilians. The German business community would like to see Merkel in Brazil again, since it is Germany's strongest economic partner in Latin America. Gauck is expected to pave the way for such a potential visit.
President Gauck leads a large economic delegation that includes experts in environmental and medical technology, engineering, aviation and logistics, in addition to representatives of the construction industry and architecture. German businesses hope to participate among others in the pending infrastructure projects for the Brazil 2014 football World Cup and the Rio de Janeiro 2016 Olympics, as well as in the expansion of the country's container ports.
There are around 800 German companies active in the metropolitan area of Sao Paulo alone. Brazil's economic powerhouse is regarded as having the largest concentration of German industrial activity outside Germany.
However, Brazil's once fast-growing economy is stalling. Growth slowed down considerably last year to just 0.9%, while inflation was relatively high at 5.8% and is expected to remain around there this year too.
Gauck plans to end his first Latin American trip in Rio de Janeiro, the so-called "Marvelous City." He is scheduled to visit the "model favela" of Doña Marta - the first slum where a permanent watch was deployed by Brazil's special Peacekeeping Police Unit (UPP) in 2008.
The former Lutheran pastor Gauck will also visit a site that is mandatory for an visit to Rio: the huge statue of Christ the Redeemer on Corcovado mountain that is a landmark of the city.
He is also expected to meet members of the National Truth Commission, set up a year ago to investigate the crimes committed during the 1964-85 Brazilian military regime. This commission could benefit from his impressions of having survived the brutal communist regime of East Germany despite his civic activism, as the former federal commissioner for the Stasi archives.
Gauck arrived in Brazil from Colombia which the German government has targeted as a market to develop. Germany is Colombia's main European trading partner, and on a global scale is only fourth behind the United States, China and Mexico