Positive reaction in Japanese markets to G7 'silent' endorsement of Yen policy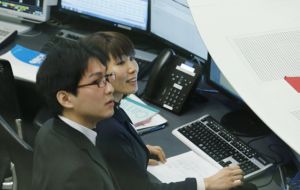 Tokyo stocks opened 1.02% higher on Monday as the Yen's fall accelerated after Japan avoided open criticism about its forex policy at the weekend meeting of Group of Seven financial chiefs. The benchmark Nikkei 225 index shot up 149.05 points to 14,756.59 at the start of trade.
Investors were optimistic after US shares rallied last week and closed at yet another all-time high on Friday while Group of Seven finance chiefs met in Britain to discuss economic challenges.
Players cheered the outcome of the G7 talks, which vowed not to intentionally set out to weaken currencies, but did not directly criticize Japan for the Yen's rapid fall due to the Bank of Japan's aggressive easing policy and the brighter US economic outlook.
Japanese media have interpreted the G7's relative silence on the Yen as tacit approval of Tokyo's policy.
As the new trading week began, investors further sold down the Yen, which fell below 102 to the dollar early Monday for the first time since October 2008.
On Friday, the Dow Jones Industrial Average rose 35.87 points or 0.24 percent to 15,118.49, a new all-time closing high.
The broad-based S&P 500, also reaching a fresh record peak, added 7.03 points or 0.43 percent to 1,633.70, while the tech-rich Nasdaq Composite Index climbed 27.41 points or 0.80 percent to 3,436.58.