Monsanto wins leading soybean seed replicating case to the relief of biotechnology industry
Tuesday, May 14th 2013 - 18:32 UTC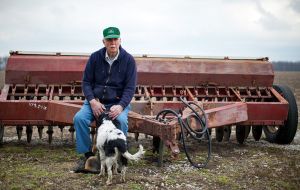 In a decision that drew sighs of relief from the biotechnology industry, the US Supreme Court ruled that an Indiana farmer violated agribusiness company Monsanto Co's patent for a type of soybean. The court agreed unanimously with Monsanto that Vernon Bowman, 75, had performed an end-run around the law when he used the company's patented soybean seeds without seeking a licence.
The justices also upheld an 84,456 dollars award Monsanto won in a lawsuit against the Indiana farmer. Rather than buying herbicide-resistant soybean seeds from a Monsanto-authorized dealer, Bowman used harvested soybeans containing the technology to plant his crops.
The court has significantly boosted Monsanto's ability to control the use of its genetically modified seeds. The case may affect makers of live vaccines, genetically modified salmon, and bacteria strains used in medical research, potentially helping makers of those products restrict use beyond the first generation.
Justice Elena Kagan wrote on behalf of the court that Monsanto's patent protections were not, in legal terminology, "exhausted" when Bowman used the seeds without the company's permission.
Kagan wrote that patent exhaustion did not allow a farmer to reproduce patented seeds through planting and harvesting without the patent holder's permission.
If farmers were allowed to do so, "a patent would plummet in value after the first sale of the first items containing the invention," Kagan wrote. Such a result would lead to "less incentive for innovation than Congress wanted," she added.
"Bowman planted Monsanto's patented soybeans solely to make and market replicas of them, thus depriving the company of the reward patent law provides for the sale of each article," Kagan added.
For biotech companies in various sectors, not just agriculture, the ruling was a "reaffirmation" of the principle that patent protections extend to copies made of a patented item, according to Patricia Millett, a Washington lawyer who filed a friend-of-the-court brief on behalf of the Biotechnology Industry Organization.
"It's very important for the innovation economy," she said.
The ruling, Millett and others in the biotech industry say, likely extends to certain other products sold with licences, including DNA and bacterial preparations.
In the ruling, Kagan specifically stated that the decision was limited to the case before the court and not all self-replicating products. She cited computer software as an example.
"We recognize that such inventions are becoming ever more prevalent, complex and diverse," Kagan wrote. The court, she added, did not need to address in the Monsanto case "whether or how the doctrine of patent exhaustion would apply in such circumstances."
Christopher Holman, an intellectual property expert at the University of Missouri-Kansas City School of Law, said what the court had left undecided were instances in which there is "unavoidable or inadvertent" replication.
Notwithstanding Kagan's reference to software, the principles contained in the ruling would apply just as much to Microsoft Corp, which sells products with licences, as it does to Monsanto, he added.
As a result of the ruling, Bowman will have to pay Monsanto for infringing on the company's patent. Bowman's attorney, Mark Walters, said the ruling "makes infringers out of 95% of America's soybean farmers." Small farmers may need to "organize and lobby Congress for a clarification of the law," he added.
David Snively, Monsanto's executive vice-president, said in a statement that the court had ensured that "longstanding principles of patent law apply to breakthrough 21st century technologies."
The case centred on a technology that has helped make Monsanto the world's largest seed company, with14.7 billion dollars in annual revenue, as well as a prime target for opponents of genetically modified food.
St Louis-based Monsanto inserts genes into crops, letting them withstand application of the herbicide Roundup. Farmers who buy so-called Roundup Ready seeds must accept restrictions on their use, agreeing not to save the harvest for planting in a later season.
Monsanto has sued 146 US farmers for saving Roundup Ready soybeans since 1997, winning all 11 cases that went to trial, the company says.