New WTO chief says it's time for 'modulating' ambition and pushing protectionism back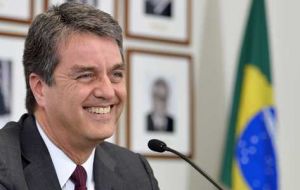 Brazil's Roberto Azevedo vowed to revive the deadlocked World Trade Organisation, as he was confirmed this week as the incoming leader of the body which sets the rules for global commerce.
"I have been working in and with this organisation continuously for the last 15 years," Azevedo, still officially Brazil's WTO ambassador, told the 159-country organisation's assembly which approved him by consensus as its next leader.
"I have seen it in much better days. I pledge to all members that I will work with them, with unwavering and steadfast determination, to restore the WTO to the role and pre-eminence it deserves and must have," he said.
Azevedo takes over from Frenchman Pascal Lamy on September 1, and said he would unveil his plans nearer the time. In a recent interview, however, he underlined that global trade talks were in "complete paralysis" and that it was time to "unclog the system," with a "modulation of the ambition" - the key to progress.
He has also said it is time for trade liberalisation to push back against protectionism — critics charge Brazil with the latter, but Azevedo has said many nations are at fault.
Lamy said he was convinced Azevedo embodied the WTO "common values", citing "openness of trade for the benefit of all" and the goals of "development, raising people's welfare and reducing poverty."
A key role of the WTO director general is to galvanise talks on liberalising international trade, a tough task given that momentum has shifted to regional trade deals as the negotiations on a global deal have stalled and with a crunch summit in Bali looming.
Azevedo said the December 3-6 Bali talks come at a "critical juncture" for the WTO and that there was "no time to lose". Officials said a renewed effort to clear the logjam is expected at a May 29-30 meeting in Paris of the Organisation for Economic Co-operation and Development, a 34-nation grouping of industrialised nations.
Career diplomat Azevedo, 55 has been Brazil's ambassador since 2008, after acting as it chief trade litigator — WTO members take their disputes to the Geneva-based body.
In the latter role he successfully challenged Brussels and Washington over farm subsidies which were found to breach WTO rules. But he also enjoys a reputation as a consensus-builder who knows the WTO system inside out.