Petrobras completes record bond offering and collects 11 billion dollars
Tuesday, May 14th 2013 - 06:36 UTC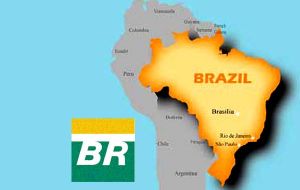 Brazil's state-controlled oil firm Petrobras sold 11 billion dollars of global debt on Monday in the largest-ever bond offering by a Latin American company. The deal was split in six tranches comprised of fixed- and floating-rate debt with maturities ranging from three to 30 years, according to a report from Thomson Reuters.
Investors placed bids topping 50bn for the debt, a sign of strong appetite for high-rated emerging market companies.
Petrobras obtained more than half of the 20bn it intends to borrow this year to ensure investment in oil exploration and production despite sagging revenue. The oil giant is seeking to spend 237 billion dollars through 2017 in what is considered the world's largest corporate investment plan by a single company.
The company last sold debt on February first 2012, when it raised 7bn from offering bonds of four different maturities. The largest sale to date in the region had been Petroleos de Venezuela SA's 7.5bn bond transaction in April 2007.
The cash comes as Petrobras is expected to participate in an auction of oil and natural gas rights in Brazil this week, the first conducted by the government in five years.
Sources familiar with the transaction said 1.25bn in three-year paper was sold at a yield of 2.144%, or 1.75 percentage point over comparable U.S. Treasuries. About one billion of three-year, floating-rate notes maturing May 2016 were sold at a yield equivalent to 1.62 point over the benchmark three-month Libor.
The company sold 2bn of five-year, fixed-rate paper at a yield of 3.125%, or 230 basis points over comparable Treasuries. Also, 1.5bn of five-year, floating-rate notes were sold at 214 basis points over Libor, the sources added.
Other parts included the sale of 3.5bn in 10-year notes at a yield of 4.522%, or 260 basis points over comparable Treasuries and 1.75bn of 30-year bonds at a yield of 5.764%, or 265 basis points over Treasuries, the sources noted.
The company hired the investment banking units of Bank of America Corp., Banco do Brasil SA, Citigroup Inc., HSBC Holdings PLC, Itaú Unibanco Holding SA, JPMorgan Chase & Co. and Morgan Stanley & Co. to handle the deal.