Record FDI year confirms Latam as commodities supplier but with little technology input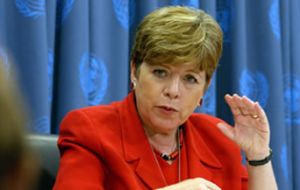 Latin America and the Caribbean received last year a record 173.361 billion dollars in foreign direct investment (FDI) (6.7% more than in 2011), despite an international context characterized by shrinking FDI flows worldwide, according to the United Nations Economic Commission for Latin America and the Caribbean (ECLAC).
The success can be tracked to the region's sustained growth, high prices for raw materials and the impressive returns on investments related to natural resources' exploitation, according to the report Foreign Direct Investment in Latinamerica and the Caribbean 2012, released on Tuesday at Eclac main offices in Santiago de Chile.
For this year Eclac expects FDI inflows to the region to range at the same level, probably dropping 3% or increasing 7%.
"The FDI results are evidence of the good current performance of the Latin American economy. However, we see no clear signs of FDI making a relevant contribution to generating new sectors or creating activities with high technology content. We believe that changing the production structure is one of the main challenges facing the region", said Alicia Bárecena, Eclac Executive Director.
The report describes FDI as increasingly focused on natural resources, particularly in South America. Manufacturing represents a fairly low proportion of incoming FDI with the exception of Brazil and Mexico.
Likewise profits from trans-national corporations operating in Latin America and the Caribbean (also known as FID income) grew fivefold in nine years, rising from 20.425 billion dollars in 2002 to 113.067 billion dollars in 2011. On average, trans-national enterprises were repatriating a slightly higher proportion of profits to their parent companies (55%) than they were investing in the countries of the region where they were generated (45%).
The dramatic surge in these profits tends to neutralize the positive effect of FDI inflows on the balance of payments, according to Eclac. Between 2006 and 2011, FDI in the region averaged 92bn per year (92% of the value of FDI inflows over the same period).
Brazil remains the main recipient of FDI, despite the slight 2% decrease recorded in 2012, totalling 65.272bn dollars - or 41% of regional inflow. In 2012, the largest increases were represented by Peru (which received 12.24 billion dollars) and Chile (30.3 billion dollars), making the latter the second largest recipient of FDI.
Other countries that posted higher figures than in 2011 were Argentina (27%), Paraguay (27%), Bolivia (23%), Colombia (18%) and Uruguay (8%). In Central America, the most striking results were El Salvador (34%), Guatemala (18%), Costa Rica (5%), Honduras (4%) and Panama (10%) which remains the sub-region's main recipient.
Mexico's figures were much lower than in 2011 and this is largely attributable to the 4.1bn dollar flotation of 25% of the subsidiary of Spain's Santander bank. Other countries that experienced falls in 2012 were Ecuador, Venezuela and Nicaragua.
FDI inflows to the Caribbean rose for the third year in a row, but failed to reach the record levels of 2008. The main recipient is the Dominican Republic, with inflows swelling by 59% in 2012.
United States and European Union countries remain the main investors in Latin America and the Caribbean, with Canada and Japan also making significant contributions. Having said that 2012 experienced a dramatic surge in the proportion of FDI from the region's own countries, which was 14% of the total. A high percentage of the investment received cannot be attributed to any particular economy because of the increasingly common practice of trans-nationals channelling their investment abroad through subsidiaries in third countries.
The report also makes an initial estimate of the effect of FDI on labour markets, based on the number of jobs directly created by investments in expanding production capacity. Trade and construction activities created the most jobs (seven jobs for every million dollars invested), followed by manufacturing and services (three jobs). Mining activities (including oil) create one job per two million dollars.
Eclac also highlights the consolidation of Latin American trans-national enterprises (trans-Latins) during a year in which many have controlled or acquired shares in European companies as they expand into Europe and other markets.
Outward direct investment by Latin American and Caribbean countries abroad grew by 17% between 2011 and 2012, to reach 48.7bn dollars. This is 2% higher than the record reached in 2010. In the past decade, most of such investments came from Brazil, Chile, Colombia and Mexico, while in 2012 they came almost exclusively from Mexico and Chile.
For the first time, the report also analyses FDI flows to Latin America's agricultural sector, which plays a growing strategic role in the demographic and climate challenges facing the region.