Chevron agrees to invest 1.5bn dollars in developing YPF shale field in Patagonia
Thursday, May 16th 2013 - 03:24 UTC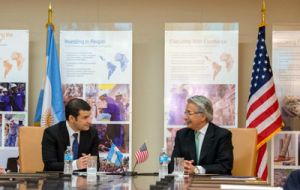 Argentina's nationalized oil company YPF signed on Wednesday an agreement with US oil major Chevron Corp to define the terms and conditions of Chevron's investment of 1.5 billion dollars in the vast Vaca Muerta shale field.
The joint pilot project will include the drilling of more than 100 non-conventional wells over the next 12 months, YPF said in a statement. The two companies signed a letter of intent in December to partner on investments. YPF aims to drill 132 oil wells at the Vaca Muerta shale formation in Patagonia this year.
YPF shares rose the most in almost five months after it was announced Chevron, the second-biggest U.S. oil company, will be the first major crude producer to partner for the development of shale oil and natural gas. YPF gained 12.26% in Buenos Aires at the end of Wednesday trading and 9.3% in Wall Street.
Miguel Galuccio, CEO of YPF, and Ali Moshiri, Chevron's head of Latin America, Middle East and Africa, visited the Patagonia shale formation on Tuesday, the company said in a statement. It added that Moshiri was "surprised" with the advanced state of YPF exploration project.
Moshiri and Galuccio in December signed an agreement to negotiate final terms for YPF to transfer a 50% interest in the fields Loma de la Lata Norte and Loma Campana. The fields for the 1.5 billion dollars joint venture comprise an area of 290 square kilometers in Patagonia.
YPF said it is pumping 7,000 barrels of oil a day, up from 4,000 in January. Vaca Muerta holds at least 23 billion barrels of oil equivalent, according to a report by independent auditor Ryder Scott released in February 2012 by YPF. Argentina holds the world's third-largest shale gas reserves, according to US Energy Information Administration data.