Uruguay's José Mujica lauds booming Brazil ties
Friday, May 17th 2013 - 06:26 UTC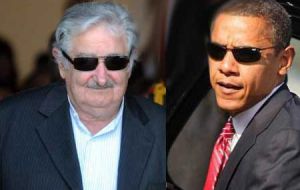 By Jude Webber in Montevideo - The Financial Times has published a piece on Uruguayan president Jose Mujica and his view on the future and his government's policy towards two powerful neighbors, Argentina and Brazil.
After spending half of his mandate in cultivating good relations with Argentina Mujica now feels it is time to look to Brazil tuning on "a complementary integration" since that country 'knows what it wants and is going for it". Follows the full piece:
It is clear where José Mujica's priorities lie. And they are not across the River Plate.
After a spot of morning work on his tractor, the maverick Uruguayan president dismisses Argentina as "very, very, very closed in on itself, very 1960s-ish". The former leftist guerrilla then lauds his northern neighbor, Brazil, for "knowing what it wants and going for it".
"We're betting on complementary integration with Brazil," Mr. Mujica, dressed in a fleece and tracksuit trousers, told the Financial Times in an interview at his simple house on farmland on the outskirts of Montevideo. "We're well in tune."
The same cannot be said for Argentina. Mr Mujica, who revels in his international reputation as "a crazy eccentric guerrilla", caused a diplomatic stir last month with blunt criticism of Cristina Fernández, Argentina's president, when he thought the microphone at an event was switched off.
Though he acknowledged the two countries were "almost like twins", Ms Fernández was a "great friend" and differences were "family tiffs", he added: "It doesn't mean we agree . . . We're on different paths. We don't advocate free trade or extreme protectionism, nothing like that. But we think that for our country, stability and the rules of the game, investor security, are a strategic capital that is non-negotiable."
Although Argentina has traditionally considered safe and stable Uruguay (the "Switzerland of South America") as its back yard, Argentine trade restrictions and eccentric policy making have badly hurt bilateral business ties.
The president universally dubbed 'Pepe', turns 78 next week and cannot by law seek another term in next year's election. He has similarly tar advice for Nicolas Maduro, Venezuela's new president, after the death of Hugo Chavez: "If he wants to be Chavez it'll flop".
Talks with Barack Obama, the US president, are expected this year. Mr Mujica said he was "a terrific guy, the best US politics can produce" in a country that can be "frighteningly conservative".
But he laughs when asked what the two leaders will discuss. Investment-grade Uruguay has enjoyed a decade of prosperity on the back of steady economic policies and a shift into lucrative new sectors, such as soybeans, timber and cellulose production. Yet its 51bn dollar economy is still only a 300th of the size of the US's.
"What am I going to talk about with Obama? I'm aware of our limitations – we're like a neighborhood of New York," he says. "I give myself the luxury of saying what I want. For example, in Cartagena [at last year's Summit of the Americas] I told him to get out of Afghanistan as fast as possible".
Mr. Mujica puts indulgence for his frank views down to curiosity and respect for his age and tough personal history – 14 years in jail in the 1970s and 1980s for being a leader of the Tupamaro guerrilla group.
That included an audacious jailbreak and brutal conditions as one of nine rebel leader "hostages" under the tacit threat of being killed if guerrilla action flared. He spent more than a decade in solitary confinement, at times down a hole, with only a frog and rats for company.
All my life I've been rowing against the tide. What can I do? It seems I was born that way. After all, if you can't change things, you can at least say them
While Mr Mujica says he would happily get rid of all the "feudal paraphernalia" and red carpet stuff that goes with being president, he laments he has to "lump it". A framed photograph of him in his presidential sash, however, stands on an overflowing bookshelf in his humble tin-roofed house.
He prefers not to talk about his guerrilla years – the past, he says, is important "insofar as it teaches us for the future" – and he adds "my concern is tomorrow". That is why he is traveling next week to China, to discuss construction of a deepwater port in the province of Rocha – he is also talking with Brazil – plus a new cargo railway link with his giant northern neighbor. Brazil is a "terrific market we have on our doorstep" for Uruguay's beef, lamb and dairy products, he says.
Nor is he bothered when people blast him for seeking to legalize marijuana in Uruguay to combat the drugs trade. "My people have to understand," he says.
Mr Mujica, a self-styled "peasant soul", cultivates a homely style. His house, where he lives with Lucía Topolansky, his wife, fellow Tupamaro prisoner and senator, is unpretentious – full of books, its walls decorated with colorful pictures but no easy chair in sight.
"I don't want to be an apologist for poverty," says the leftist leader, "but I can't stand waste, useless spending, wasted energy and having to live squandering stuff." People, he stresses, should "work to live", not the reverse.
"I think I'm happy because I'm doing what I like," he says. That includes growing flowers on his smallholding, where he works every morning, and speaking his mind.
"All my life I've been rowing against the tide. What can I do? It seems I was born that way," he says. "After all, if you can't change things, you can at least say them."