Argentine Antarctic campaigns disarray and corruption claims turn off recruiting
Saturday, May 18th 2013 - 06:21 UTC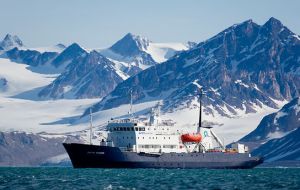 Argentina's Antarctica campaigns are losing their flair and the country is having difficulties to fill vacancies for the 2013/14 season. This follows repeated claims of alleged corruption and delays in supplying the bases and stations plus an overall lack of support from the Defence ministry.
In effect according to the Buenos Aires media, the emblematic Argentine Air Force base of Marambio which has been the pride of Argentine military, scientists, technicians and staff has been forced to extend the deadline to register for the next season because only 14 signed in and a minimum of 45 are needed.
"People have lost interest; they know there's little food, heating and less fuel. Zero comforts in a hostile environment and the pay is a misery (approx 2.000 dollars per month including the Antarctic bonus), compared to what happens in other countries where spending time in Antarctica is a motive of pride", according to sources close to the campaign.
The situation in the other bases and stations apparently is not much better: there are still vacancies for the next season in all of them and this is a consequence of recent events including allegations of corruption, lack of provisions and abandonment during this last 2012/13 campaign with one case involving Defence minister Arturo Puricelli ending in a court of justice.
All these claims were supported by the testimony of a fauna ranger at the Orcadas base who openly complained through the social web about "the poor working conditions and limited support".
Mariano Spisso in dialogue with Perfil daily two months ago claimed that the food and medicine at the Orcadas base all had expired dates.
"It wasn't a good year. We had to eat expired tin food, there is lack of sufficient food and fuel, and to make things worse we had to borrow food from the 'Polar Pioneer' cruise vessel", said Spisso.
"It was pitiful, shameful; we had to beg for food. So much time and resources invested in Antarctica to end this way…It's the responsibility of the Navy" insisted Spisso.
At the time other problems surfaced, allegation of corruption in the tendering for Antarctica bases provisions. Eyes are set on 'Transport & Services', a company that was suggested by former president Nestor Kirchner and which is in the business of subcontracting to foreign companies.
Even when Minister Puricelli said that all the tendering process had been according to the rules with no deviations, military sources pointed out that the company above mentioned had "the support from Casa Rosada (Government House)", because otherwise "it would be impossible for them to win; some of those bids are more like surprise boxes".
This latest chapter of insufficient interest follows a previous serious incident when the vessel contracted by the Argentine Defence ministry to supply the Antarctic bases run out of fuel and was forced to return to Ushuaia.
The Dutch flagged 'Timca' unexpectedly popped up in Ushuaia to load fuel, a non-programmed visit which further delayed the provision of Argentine bases in Antarctica. By then the 'Timca' had spent 55 days with the 2012/13 campaign, when the contract was for 35 days with a daily extra cost of 60.000 dollars according to contract. To this must be added that the sub-contracted Russian Kamov helicopter was out of service during 20 days because a turbine broke down and a mal-functioning oil pump.
In other words half way through the Antarctic summer season several bases had yet to be supplied.
Apparently the Argentine ministry of defence paid over 16 million dollars for the contract of 'Timca' plus the logistic air support of the vessel and turnover of crews and parachuting cargo.