Argentine ports strike stalls oilseed and grains exports at peak harvest time
Thursday, May 23rd 2013 - 02:10 UTC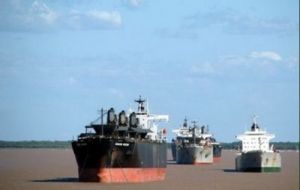 Argentine longshoremen on strike at the peak of summer harvests exports have scores of grains ships delayed in and around due to a three-day-old conflict that threatens to bog down shipments at a time of heightened world demand for South American soy and corn, according to industry sources.
Negotiations aimed at ending the work stoppage in the main grains hub of Rosario and other smaller ports are set for Thursday. Strikes are common in Argentina where double-digit inflation fuels high wage demands.
But this one comes at a sensitive time for grains powerhouse Argentina, as farmers finish harvesting their 2012/13 soybeans and corn. The country is the world's No. 3 exporter of both crops, and its No. 1 supplier of soy-oil and soy-meal.
"Ships already in port are being prevented from setting sail and those still in open sea cannot arrive at harbour" said an industry source with direct knowledge of the situation but who asked not to be identified due to the sensitivity of the matter.
"The logistical problems are causing associated business losses and port-side grains warehouses are reaching capacity" the industry source said. "At least 50 ships are stalled in the greater Rosario area with another 50 affected on the high seas".
Agriculture is a top source of foreign currency for financially troubled Argentina, which has been locked out of international capital markets since its 2002 sovereign debt default.
As stocks of corn and soybeans in the United States run low ahead of the autumn harvest, global importers rely more heavily on South American supplies.
The US grain stockpile is particularly low this year after drought parched the Midwest farm belt in 2012, with soybean stocks projected to shrink to a nine-year low and corn to a 17-year low by the end of August.
About 80% of Argentine grains and oilseeds leave from Rosario, located on the Parana River. Unionized workers are needed to manage the entrance and exit of each ship from the constellation of ports that make up the Rosario hub.
A Buenos Aires-based source at a major exporting company said he agreed that about 100 cargo ships - including those in Rosario, those stopped along the Parana River and those waiting to enter the waterway from the high seas - were delayed.
"We are at a high point in the harvest season, so the number of ships coming and going is relatively high," the trading source said.
The Argentine agriculture ministry estimates a 2012/13 soybean crop of 51.3 million tons and a corn harvest of 25.7 million tons.