Brazil freezes budget outlays in an effort to meet its primary surplus target
Thursday, May 23rd 2013 - 19:23 UTC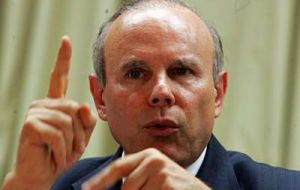 Brazil has frozen 28 billion Reais (approx 13.7 billion dollars) in its 2013 budget as it tries to meet its primary surplus target, Finance Minister Guido Mantega said on Thursday in Brasilia. President Dilma Rousseff's administration is trying to meet targeted primary surplus goal of 155.9 billion Reais without undermining economic growth.
Mantega said the freeze will not affect items of the budget set aside for investments and hosting the World Cup soccer tournament. The government may increase abatements against this year's fiscal surplus goal to 45 billion Reais, added Mantega, up from February's estimate of 25 billion Reais.
The Brazilian government has extended tax cuts and increased spending to spur the economy, even as such measures have helped keep annual inflation near the 6.5% upper limit of the central bank's target range.
Fiscal policy has remained expansionary, central bank President Alexandre Tombini told lawmakers in Brasilia on Wednesday. According to the latest central bank survey of about 100 economists, the economy is forecast to grow 2.98% this year. The central bank estimates 3.1%.
Mantega anticipated that the government will post a primary surplus this year of 2.3% to 3.1% of GDP, but results will depend on tax revenue, which are not expected to be "extraordinary".
To meet its 2012 fiscal target the government withdrew 12.4 billion Reais from its wealth fund and discounted 34.9 billion Reais in infrastructure investments from its primary surplus goal.
Mantega also anticipated that the payroll tax on bus fares will be eliminated. The change in the so-called PIS/Cofins tax will be announced through a provisional measure by President Rousseff in coming days.
Bus fares in Sao Paulo, the country's largest city are scheduled to increase by 6.7% in June to approx 1.56 US dollar.
The measure is part of the government's effort to contain stubbornly high inflation which remains at the top end of the government's target, 6.6%.