Drug trafficker in Rio challenge authorities and the pacifying campaign in favelas
Friday, May 24th 2013 - 06:17 UTC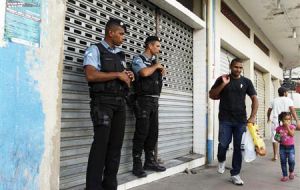 Drug traffickers in Rio de Janeiro ordered shops closed in one of its biggest slums, defying efforts to restore order to the city's vast shantytowns and renewing safety concerns in Brazil as it prepares to host the World Cup and Olympics.
Shops were shuttered and more than 5,400 children were turned away from school Thursday morning after traffickers, shouting from motorcycles, ordered a curfew following a shootout with police late Wednesday that killed a drug dealer.
City and state authorities said they suspended classes at four schools and six day-care centres as a precaution.
Such scenes used to be common in Rio, Brazil's second-biggest city and a metropolitan area that is home to nearly 12 million people. But the city has made huge efforts to weed out criminal gangs that long ruled the favelas, as the slums are known, before next year's World Cup and the 2016 Olympics.
Although Thursday's events were limited to the area around the Complexo do Alemao, a huge series of shanties between the city centre and its international airport, they came as Brazil is grappling with a resurgence of crime in other cities, too.
In Sao Paulo, the country's biggest city and business capital, authorities are struggling with a crack epidemic and turf wars between police and criminal gangs.
"This is a war, a 24-hour struggle, across the entire country," Geraldo Alckmin, the governor of the state of Sao Paulo, said in a televised interview Wednesday.
His comments came as the state unveiled a series of measures, including new technology and pay incentives, for Sao Paulo police to meet ambitious new targets in crime reduction.
In Rio, officials said Thursday's curfew was an effort by drug traffickers to revive the lawless slum culture in which they dictate everything from shop hours to permission for non-residents to enter and exit their neighbourhoods.
"This is another expression of discontent by a few recalcitrant drug traffickers," Paulo Henrique Moraes, the colonel in charge of security in the Complexo do Alemao, said on local radio.
But the episode also illustrates the tenuous nature of Rio's campaign to "pacify" favelas, a process that involves a military-style invasion of targeted slums followed by continued occupation by police forces. The effort comes as Rio gears up for the 2014 World Cup, which it will host with 11 other Brazilian cities, and the 2016 Olympics, which will be held in Rio alone.
Although authorities have displaced drug gangs from dozens of the slums, especially in wealthy tourist areas and portions of the city being prepared for the big events, many favelas remain unruly. The Complexo do Alemao, for instance, still harbours traffickers and other criminals even though the slum has been occupied since late 2010.
Residents in Rio's outskirts, meanwhile, complain that improvements in some areas have only move problems to poorer neighbourhoods. Although crime has decreased in wealthy districts along the city's scenic waterfront, violence has surged in dense inland suburbs nearby.