Russia forced to evacuate Arctic base because of melting ice field
Friday, May 24th 2013 - 06:35 UTC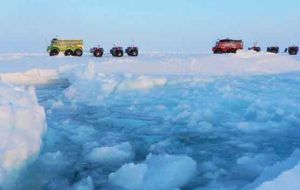 A Russian drifting Arctic research station is to be evacuated because the ice field around it is melting, the environment ministry in Moscow reports. The evacuation order plan to be drawn up within three days for North Pole 40 and its staff of 16 is already operational.
The environment ministry is sending a nuclear-powered icebreaker to help move the station, located near Canada's economic zone.
According to UN experts, Arctic ice melted at record speed in 2012, one of the warmest years on record.
The Russian ministry said the "abnormal development of natural processes" had endangered the lives of staff and the work of the station.
North Pole 40 went into operation on October first, replacing another station which had existed for just less than two years.
The base monitors the ocean environment and pollution, as well as acting as a weather station and conducting experiments. It will be relocated to Bolshevik Island in the Severnaya Zemlya archipelago.