Brazil's employment rate remains stable but job creation slowed in recent months
Saturday, May 25th 2013 - 05:11 UTC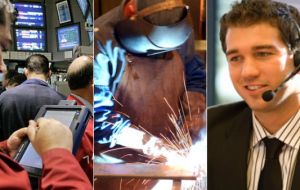 Brazil's jobless rate rose slightly in April for the fourth straight month but remained near record lows, suggesting that tight labour conditions bolstered a gradual recovery and fed into inflation, statistics agency IBGE said this week.

Brazil's jobless rate rose unexpectedly to 5.8% from 5.7% in March. Despite the rise it was the lowest jobless rate for the month of April since the beginning of the data series in 2002. In April last year, Brazil's jobless rate stood at 6%.

Although Brazil's economic slowdown in the past two years had muted impact on the labour market, the pace of job creation has slowed in recent months, suggesting that the unemployment rate will not fall further in coming months.

Brazil's economy added a net 196.913 payroll jobs in April, the Labour Ministry said on Tuesday, down from 216.974 a year earlier.

The IBGE report showed the number of Brazilians with jobs in the six major metropolitan areas surveyed stood at 22.9 million, unchanged from March and from April last year. The tally of people who unsuccessfully looked for work remained unchanged as well at 1.4 million.

Real wages fell 0.2% from March to an average of 1,862.40 Reais (900 dollars) a month. That was up 1.6%from a year earlier.

The unemployment rate, as calculated by the IBGE, tallies jobs in the formal sector, where employees are legally registered, as well as off-the-books jobs in the so-called informal sector.