Biden in Colombia praises peace talks and success of bilateral trade agreement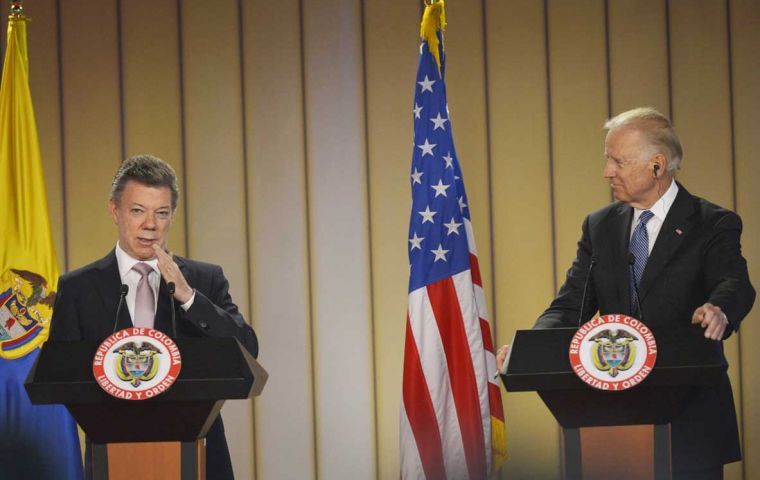 In his first visit to Colombia in more than a decade, US Vice President Joe Biden said on Monday that he is pleased security concerns can now take a back seat to trade and economic issues in talks with Washington's long-time ally. Biden also praised President Juan Manuel Santos for helping lead Latin America toward a "middle class, democratic and secure" future.
During a joint press conference President Santos said that in the event of finally reaching a peace agreement with the FARC guerrilla, it would mean the 'finishing touch' for the security policy implemented with the Plan Colombia started in 2000 with the help of Washington.
"We applaud any advance that brings the Colombians closer to the peace that they so much deserve" said Biden. "You Colombians have recovered your country from war, have advanced swiftly" he added and emphasized that the country has made "great progress" in fighting the guerrilla and the drug trade in recent years and now "your are beginning to harvest the fruits of that security policy".
Santos recalled that when Biden's previous visit to Colombia in 2000 with then president Bill Clinton, the Plan Colombia was launched, an initiative which provided the country 8 billion dollars to combat the drugs trade.
Thirteen years later there cocaine production in Colombia has dropped by half, according to local authorities.
Santos said that Biden had arrived at the same time as the news of the first agreement reached by the Colombian government with the FARC guerrilla in the ongoing peace talks Havana. He was referring to the agrarian and displaced peasants' resettlement basic terms deal which is considered one of the most contentious.
"If we manage that the five points included in the accord can be finished successfully, that would mean a perfect finishing touch for the plan that was started thirteen years ago", said Santos. Peace talks with FARC are scheduled to continue during June.
Santos revealed that during the talks with Biden issues related to energy, environment, education, security and trade were also addressed.
Biden described as 'a great success' the free trade agreement between Colombia and the US which became effective on May 2011 and celebrated that US exports to Colombia have since increased by 20%.
"We also talked about the Alliance of the Pacific" said Santos in reference to last week's summit in Cali of the four founding members, Chile, Peru, Mexico and Colombia. He added that Biden expressed the US interest in becoming an observer of the alliance and he said "Colombia would present and support the request".
Before leaving Biden visited a flower farm outside Bogotá. Cut flowers are one of Colombia's most valuable exports, and the US is its biggest market.
From Colombia the Vice-president flew to Trinidad and Tobago for the second stop on his three-nation trip. Biden on Tuesday is scheduled to discuss regional security, energy and economic integration with Caribbean officials and leaders, including Haitian President Michel Martelly.
On Wednesday, Biden will deliver a speech in Rio de Janeiro showcasing Brazil as a strategic US partner, and meet with Brazilian business and community leaders. Those meetings will include a tour of a site managed by Brazilian oil giant Petrobras.
Biden will also meet with President Dilma Rousseff and Brazil's vice president to "discuss ways to deepen our economic and commercial partnership," the White House said.
The three-country visit is Biden's fourth to the region since becoming vice president in January 2009.