OAS Participates in 3rd Level Meeting of the Inter-Regional Dialogue on Democracy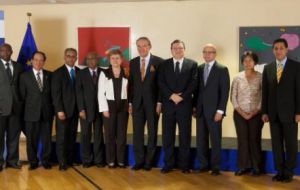 The Assistant Secretary General of the Organization of American States (OAS), Ambassador Albert R. Ramdin, represented the organisation in the Third High Level Meeting of the Inter-Regional Dialogue on Democracy, held in Brussels, Belgium: "Upholding and Strengthening the Rule of Law in our Regions."
The Meeting, organised by International IDEA, was attended by leaders from the world's major regional organizations, namely the African Union, the Association of Southeast Asian Nations (ASEAN), the League of Arab States, the Pacific Islands Forum (PIF), the OAS and the South Asian Association for Regional Cooperation (SAARC), in addition to the European Commission which hosted the meeting.
"Today's Meeting of the Inter-Regional Dialogue on Democracy is an excellent example of political dialogue among regional and international organisations for democracy building processes," said European Commission President Jose Manuel Barroso in his welcoming remarks.
The heads and representatives of the regional organisations, the President of the European Commission, the UN Deputy Secretary-General and the Secretary-General of International IDEA recognised that the rule of law implies that all persons, institutions and entities, public and private, including the State itself, are accountable to just, fair and equitable laws and are entitled without any discrimination to equal protection of the law.
The Meeting further recognized how the Inter-American Democratic Charter identifies respect for human rights, the rule of law and the separation of powers among the essential elements of representative democracy, as well as efforts by the OAS to implement the Inter-American Democratic Charter, the continued advancement of the Inter-American Human Rights System, and the achievements of the OAS in the field of regional legal cooperation, especially the progress achieved in the implementation of the Inter-American Convention against Corruption and the process of Meetings of Ministers of Justice or other Ministers or Attorneys General of the Americas (REMJA).
Ambassador Ramdin took the floor to talk about some of the main challenges faced in implementing the rule of law in the Americas, such as poverty and inequality, corruption, access to justice and organised crime and highlighted some of the activities of the OAS in those areas.
Participants agreed to organise the Third Inter-Regional Workshop on Constitutional Governance and the Rule of Law aimed at senior officials and international and regional experts to expedite the sharing of experiences and lesson learned in the field of judicial and quasi-judicial institutions for the protection of human rights; and explore and discuss the different mechanisms for regional legal cooperation, as well as national constitution building processes. International IDEA will host this workshop in The Hague, The Netherlands from October 15 to 17, 2013.