Royal Caribbean "Grandeur of the Seas" suffers accident, cancels cruise
Tuesday, May 28th 2013 - 06:06 UTC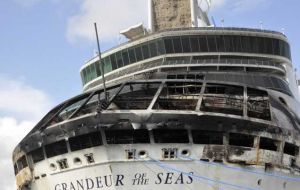 Royal Caribbean International announced on Monday that the 31 May 2013 sailing of Grandeur of the Seas from Baltimore, Maryland, will be cancelled to allow for repairs to damages sustained as a result of a fire.
Guests booked on the May 31 sailing will be provided a full refund of the cruise fare paid for their sailing. Royal Caribbean also will provide these guests with the opportunity to sail in the future by providing a future cruise certificate for 50% of the cruise fare paid for the May 31, 2013, Grandeur of the Seas sailing.
Grandeur of the Seas was en route to CocoCay, The Bahamas, when the ship experienced a fire in the mooring area in the aft of the ship at approximately 2:50 a.m. Monday.
The cause of the fire is still under investigation. The power and communication systems were unaffected by the blaze.
The ship was redirected to Freeport, The Bahamas, where it will remain this evening.
Fortunately, there were no reports of serious injuries or medical emergencies related to the incident. The only incidents reported included fainting, high blood pressure and an ankle sprain.
Grandeur of the Seas is part of Royal Caribbean International's fleet of 21 cruise ships. The ship was launched in December 1996 and recently underwent a 48 million-dollar refurbishing in May 2012.
Grandeur of the Seas has a maximum capacity of 2,446 guests; measures 916 ft. long and 105.6 ft. in width; and has a cruising speed of 19 knots.
This is the latest in a long line of large cruise ship incidents that has many people questioning the entire industry and its safety standards. Thirty two people died in the 2012 Costa Concordia disaster off the coast of Italy.
In February and March two separate Carnival ships had issues with the electrical systems, toilet systems, and human waste overflowing.