Obama to welcome Rousseff: a "new era" starts in Brazil
Wednesday, May 29th 2013 - 20:32 UTC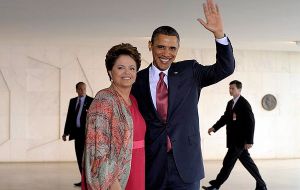 A communiqué released today by the White House said, "The President and First Lady will host Dilma Rousseff, President of the Federative Republic of Brazil, for an official State Visit with a State Dinner at the White House on October 23," in what the United States hopes will mark the start of "a new era in relations", as announced by Vice President Joe Biden, in Rio de Janeiro.
"President Barack Obama has asked me to invite your president to come to Washington for the only state visit which will take place this year," Biden said in a speech that sought to convince Brazilians of the mutual interest underlying closer trade ties and investment.
"The year 2013 is the beginning of a new era of relations between Brazil and the United States,and also the Americas", Biden said; he shall be meeting Rousseff on May 31 in Brasilia.
Rouseff's vist to the US will be the first state visit in Obama's second term; it will also be the first state visit of a President of Brazil to the United States since 1995.
Biden said it was time to leave the past behind and focus now on what both economic powers-the first and the seventh in the world, can now do together. "Imagine what these two dynamic economies (USA and Brazil) could do with more trade and investment," he said. "We can not refer to Brazil as an emerging country; it has emerged and everybody is well aware of that," he added.
United States is the second largest trading partner of Brazil, after China. Biden stressed that the Brazilian economy is larger than India or Russia's, two of Brazil's partners in the BRICS bloc of emerging powers, along with China and South Africa.
The communiqué stressed that "during President Rousseff's visit, the two leaders will highlight the importance of expanding dialogue and cooperation between the United States and Brazil on a growing number of bilateral, regional, and global issues."