World Tourism Day will promote water conservation efforts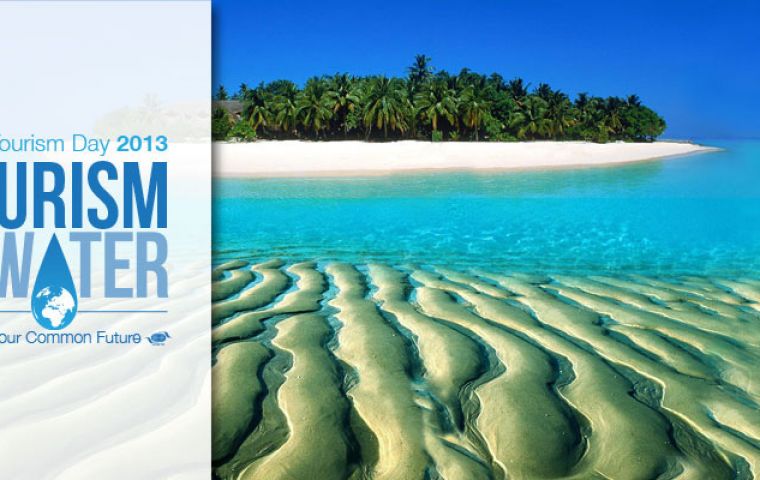 This year's World Tourism Day (WTD) (September 27) theme focuses on tourism's significant role and contribution to worldwide water conservation efforts. The theme is in line with the UN General Assembly's declaration of 2013 as the United Nations International Year of Water Cooperation, providing the opportunity to further highlight the shared responsibility of the tourism sector to the wider sustainability objectives.
As a trillion dollar economic sector, tourism is a powerful force capable of tackling this challenge by offering effective solutions geared towards a more sustainable water future. With over one billion people traveling internationally each year, tourism can also be an important vehicle of raising awareness and changing behaviors.
"As one of the largest economic sectors in the world, it is the responsibility of the tourism sector to take a leadership role and ensure companies and destinations invest in adequate water management throughout the value chain. If managed sustainably, tourism can bring benefits to the national and local communities and support water preservation," said UNWTO Secretary-General Taleb Rifai in his official WTD 2013 message. "I urge all those involved in the tourism sector to join our global World Tourism Day campaign and continue to devise innovate solutions to ensuring sustainable access to water resources worldwide."
Clean, accessible water is vital to tourism, running most of the sector's businesses, from hotels and restaurants to leisure facilities and transportation. More importantly, wetland tourism is growing, with many of the world's coastlines, lakes and other wetlands among the most popular tourism destinations.
World Tourism Day will be a unique opportunity to examine the challenges facing water management in tourism and the measures being undertaken by the sector to protect and promote water resources while creating benefits for local populations around water tourism destinations.
Official WTD celebrations in the Maldives will include a High-Level Think Tank bringing together public and private tourism stakeholders and water experts to devise policies and strategies aimed at ensuring the tourism sector contributes to protecting water resources.