AI calls on Hague for talks with Colombia more focused on human rights and less on trade
Friday, June 7th 2013 - 23:42 UTC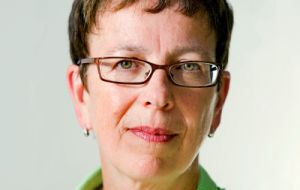 Amnesty International said that British authorities in their meetings with visiting Colombian President Juan Manuel Santos should not allow a 'focus on commercial diplomacy to come at the cost of raising human rights. President Santos is basically on a business and trade visit to the UK, but is also expected to address issues of 'security and intelligence".
The timing of the visit is crucial given the on-going peace talks in Colombia, but according to AI "a stable peace will remain elusive unless the two sides put an end to human rights abuses, including unlawful killings and sexual violence, and the Colombian authorities make a firm a commitment to bring to justice all those responsible for such abuses".
"Given the Foreign Secretary's leadership around G8 on tackling impunity for sexual violence in conflict, Colombia's lack of progress on combating conflict-related sexual crimes must be top of the agenda" said Kate Allen director of AI UK branch.
In Colombia, the guerrilla, paramilitaries and members of the security forces have used sexual violence to sow terror within communities, scare people off their land, and silence those campaigning on behalf of survivors of sexual violence.
"If William Hague is to honour his own commitments, it is these concerns that must come first – and not trade", insisted Ms Allen.
The meeting comes at a crucial time in Colombia's legislative program, as the Colombian Congress is debating reform of the military justice system, which could see many more members of the security forces evade justice for serious human rights violations.
During a visit to the UK in 2011, President Santos gave assurances that military courts would not have jurisdiction over cases implicating the security forces in human rights violations.
"The reform will give the military greater control over criminal investigations involving members of the security forces in human rights violations, including cases of conflict-related sexual violence", said Ms Allen.
"On paper it appears to represent a massive U-turn by President Santos on the promises he made two years ago, The Foreign Secretary must use this opportunity to make clear his opposition to this reform".