Major tech companies involved in US controversy over 'security vs privacy'
Friday, June 7th 2013 - 03:25 UTC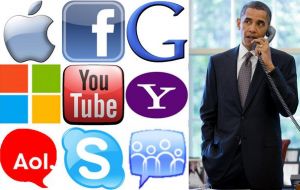 Major tech companies including Apple Inc, Google and Facebook Inc said they do not provide any government agency with "direct access" to their servers, contradicting a Washington Post report that they have granted such access under a classified data collection program.
The newspaper reported that the US National Security Agency and the FBI are "tapping directly into the central servers of nine leading US Internet companies" through a secret program known as PRISM, and extracting massive amounts of data including audio, video, photographs, emails, documents and connection logs.
It named nine companies, including Apple, Facebook, Microsoft Corp and Google Inc, as having joined the secret program.
Google, the Internet's largest search provider, said that, despite previous reports that it had forged a "back door" for the government, it had never provided any such access to user data.
Microsoft said it does not voluntarily participate in any government data collection and only complies "with orders for requests about specific accounts or identifiers."
"We have never heard of PRISM," said Apple spokesman Steve Dowling. "We do not provide any government agency with direct access to our servers, and any government agency requesting customer data must get a court order."
Asked whether Apple joined the NSA-FBI data collection program, Apple declined to comment beyond its brief statement.
The Washington Post reported that Apple held out for more than five years after PRISM enlisted its first corporate partner, in May 2007, for "unknown reasons."
"We do not provide any government organization with direct access to Facebook servers" Facebook's chief security officer Joe Sullivan said in a statement. "When Facebook is asked for data or information about specific individuals, we carefully scrutinize any such request for compliance with all applicable laws, and provide information only to the extent required by law."
Yahoo said in a statement that it "takes users' privacy very seriously. We do not provide the government with direct access to our servers, systems, or network."
The controversy emerged after the Obama administration acknowledged that it is collecting a massive amount of telephone records from at least one carrier, reopening the debate over privacy even as it defended the practice as necessary to protect Americans against attack.
The admission came after the Guardian newspaper published a secret court order related to the records of millions of Verizon Communications customers on its website on Wednesday.
A senior Obama administration official said the court order pertains only to data such as a telephone number or the length of a call, and not the subscribers' identities or the content of the telephone calls.
Such information is "a critical tool in protecting the nation from terrorist threats to the United States," the official said, speaking on the condition of not being named.
"It allows counter terrorism personnel to discover whether known or suspected terrorists have been in contact with other persons who may be engaged in terrorist activities, particularly people located inside the United States," the official added.
The revelation raises fresh concerns about President Barack Obama's handling of privacy and free speech issues. His administration is already under fire for searching Associated Press journalists' calling records and the emails of a Fox television reporter as part of its inquiries into leaked government information.