Low birth rate and ageing population have become Chile's "demographic seism"
Saturday, June 8th 2013 - 06:20 UTC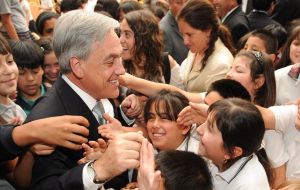 President Sebastián Piñera expressed great concern over the "demographic seism" facing Chile because of the low birth rate and ageing population, during an event at Government House where he announced some of the initiatives taken by his government.
"I'm more concerned about the 'demographic seism' than 27 February 2010" said Piñera in direct reference to the earthquake which three years ago killed 534 people. "The issue of fertility is at the heart of our priorities".
According to the president he fertility rate in Chile has dropped from 2.6 children per woman in 1990 to 1.8 in 2013, "if we had kept the rate of the nineties we would have an additional million children and Chile would be different, much better off".
The low birth rate has come in parallel with an improvement in life expectancy, which has led to an ageing population that also questions the viability of the pensions' scheme.
"The advance of medicine, science and quality of life are extending life expectancy", said Piñera who mentioned the fact that "Chile now has almost half a million people over eighty when before that number was insignificant".
Piñera then mentioned that his administration had extended maternal leave from three to six months and included in the latest budget two initiatives: one of them is a 200 dollars bonus for every family that has a third child. The second refers to extending the coverage and access to fertility treatments so that this year 2.000 cases can benefit.
According to the latest census from 2010, Chile's population stands at 17.2 million, with a birth rate of 10.46 per 1.000-population and a death rate of 5.9/1.000 population. In 1990 29.9% of the population was below 14 years; 63%, 15 to 64 years and 6.2% over 65. Two decades later the percentages are: 22.1%; 68.6% and 9.3%.
Almost 85% of Chilean population is urban with 40% living in the Great Santiago.