Venezuelan 12 month inflation reaches 35.2%; prospects of food rationing
Saturday, June 8th 2013 - 06:25 UTC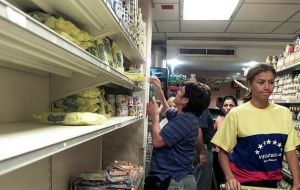 With inflation in May reaching 6.1%, the highest monthly rate in 17 years, mostly because of the shortage of basic foods, some states in Venezuela are already planning food rationing fearing the situation could worsen. The Venezuela's Central Bank released the figure on Friday.
Private consultants blame currency and price controls for shortages of basics including flour, sugar, cooking oil and toilet paper. Currency controls have helped make the black market dollar worth more than four times the official dollar, which is virtually impossible to obtain legally.
Venezuela's annual inflation rate was 35.2% through May, 12.6 percentage points higher than last year. The previous monthly high of 7.1% was in June 1996. In five months inflation reached 19.4% which is almost equivalent to the 20.1% of 2012, said the bank.
Many economists believe populist run Venezuela is in a recession as rising domestic demand for gasoline crimps oil exports.
Meanwhile the western state of Zulia announced plans to start limited food rationing next week, given the ongoing shortage of basics and soaring prices.
In an official release the bank said that May numbers are in the framework of "the residual effects of the February foreign exchange adjustment and the increase of the minimum salary beginning May first".
Inflation was boosted mainly by the increase in food and beverage prices, 10%, "a tendency attributed to the 20.4% increase in agriculture prices" and the "administrative adjustment of several items that were subject to control".
However the central bank also pointed out that the 'shortage indicator' which measures the difficulties to obtain a basket of basic goods (which tends to be chronic) actually went down from 21.3% to 20.5%.
Last February the Venezuelan government decided a 31.7% devaluation of the Bolivar to alleviate the shortage of dollars, in a country which is an overwhelming importer of food and other basic produce.
The opposition has criticized the soaring inflation and claim the Venezuelan economy is in 'stagflation' following a modest 0.7% growth in the first quarter over the same period a year ago.
President Nicolas Maduro again had to deny intense rumours in the banking circuit of Caracas that another strong devaluation is in the pipeline.