Bachelet pledges new legitimate, transparent constitution, plus fiscal and education reforms
Monday, June 10th 2013 - 21:43 UTC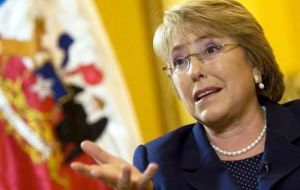 Former Chilean president (2006/2010) and Socialist candidate, Michelle Bachelet (61), pledged to elaborate a new constitution during her first year in office, if she is elected in the coming November presidential election.
"The new constitution will be sent to Parliament in my first year of government" pledged Bachelet in a lengthy Sunday interview with Chile's main daily EL Mercurio. She revealed to have a team of experts working on the project because "a democratic constitution is essential in this new chapter of Chilean history".
Chile's current constitution was drafted during the dictatorship of Augusto Pinochet (1973/1993) and confirmed in controversial 1980 elections with which the dictator tried to validate his regime. The constitution had strong mechanisms to prevent a look into the past, a robust conservative opposition and ensure financing of the country's armed forces with the copper surpluses.
In 2005 and with democracy effective, former president Ricardo Lagos agreed on reforming several "antidemocratic enclaves" of the text but which were considered 'insufficient' by the more militant left wing organizations.
"This (1980) constitution is illegitimate in origin, and even when amendments have been significant there are not enough for everybody to feel satisfied" said Bachelet, but despite the pledge she did not offer details or if a constitutional assembly would be convened to implement the reform.
"I don't have a definitive approach" as to the way to introduce the amendments said Bachelet leaving the door open to debate the issue once the primary elections of the catch all left wing coalition are over, scheduled for June 30.
"We need a transparent, responsible constitution with some participation component from the people's voice heard in the process", she added.
Bachelet also promised that in the first 100 days of her coalition government she would be sending initiatives for an education reform and a tax reform, so that they can be approved by 2015.
The former president who is leading the opinion polls comfortably (56%) said she plans to increase taxes to finance an education reform that will need 1.5%, 2% of GDP to guarantee free education university for every Chilean in six year time.
The tax reform has as its main target "to advance fiscal equality, which means those groups with the highest income contribute what they must and they make a greater effort in that direction" and to address "the structural deficit which the next administration will inherit".
Bachelet will be facing three left wing pre-candidates in the coming June 30 primaries, when she is expected to be confirmed as the left-leaning 'Concertacion' coalition presidential candidate. She will be facing a candidate from the conservative coalition which has as main hopefuls former ministers Pablo Longueira and Andres Allamand.