Brazil world's top orange juice exporter conditioned by rising labour costs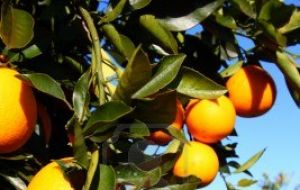 High production costs have orange growers in Brazil, the world's top orange juice exporter, bracing for a tough citrus season, despite last season's record harvest and high juice prices.
"The orange market is going through its worst moment in two years: world consumption is stagnating, production costs are rising and processors are getting more and more powerful," said Marco Antonio do Santos, president of the Taquaritinga growers' union.
In the last season, Brazil produced an estimated 1.4 million tons of oranges, well above the one million tons forecast for the upcoming season. The record harvest solidified the country's ranking as the world's leading orange juice producer and exporter, but it also increased world stocks even as Brazilian exports have been falling since 2007.
Soaring production costs mean the overproduction has not translated into lower prices -- prices of concentrated juice have actually tripled since 2005 to reach 2,300 dollars a ton -- but it's still not enough to keep growers out of the red.
Booming Brazil has updated its labor code and increased its minimum wage which this year rose to the equivalent of 337 per month from 332 dollars. Land lease costs and prices of pesticides linked to oil prices have also risen.
"The government calculated that we have a production cost of around 5 dollars per crate (40.8 kilograms or 90 pounds), while we are selling it at 3.5 to 4 dollars," said Antonio do Santos, of the growers' plight.
"In the citrus belt of Sao Paulo, half of the orange farms have disappeared over the past 10 years, and only the most productive survive," said Antonio do Santos. "The other producers have switched to sugar cane, corn and soybean."
According to data from the government's crop supply agency Conab, 36,700 hectares of orange trees were uprooted between 2012 and 2013. Independent growers have been hurt by increasing coordination among the companies that process and market the juice.
One coalition of exporters -- the Brazilian Association of Citrus Exporters, or Citrus BR, -- monopolizes 97% of orange juice exports.
"We are uniting because the bottling companies are merging," said Ibiapaba Netto, a spokesman for Citrus BR, adding that, despite the rising price of concentrated juice, they can't afford to pay growers any extra.
"Orange juice faces new competition from energy drinks, multi-vitamin beverages, cold teas, flavored waters and Chinese apple juice, which is cheaper," he explained.
Both sides agree, however, their industry could benefit from tapping into new markets -- and that one with major potential is right at their feet: the domestic Brazilian market, where orange juice is rarely consumed.
"Brazil is booming. In a few years, our country can have as many people drinking industrial orange juice as in Germany, which is the world's leading consumer per capita," said Antonio do Santos.
The orange production chain generates more than 200,000 direct jobs in over 300 Brazilian cities and export revenues of between 1.5 and 2.5 billion dollars annually.