S&P upgrades US credit outlook to 'stable'; government debt 84% of GDP
Monday, June 10th 2013 - 19:44 UTC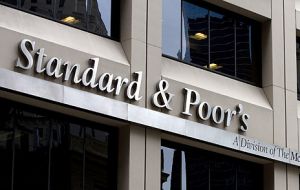 Credit rating agency Standard & Poor's On Monday upgraded its credit outlook for the United States government to "stable" from "negative," saying the chances of a downgrade of the country's rating is "less than one in three."
In August 2011, S&P became the first credit rating agency to downgrade the sovereign US credit rating from top-rated "AAA" to "AA+," the second highest rating, and had left the US credit outlook at "negative" at that time.
S&P said in a release that the recent improvements in tax receipts and steps taken to address longer-term budget issues improved the outlook for the United States. However the agency raised concerns about the ability of policymakers to tackle long-standing issues due to a deepening of a partisan divide in Washington in the last decade, however.
"We believe that our current 'AA+' rating already factors in a lesser ability of U.S. elected officials to react swiftly and effectively to public finance pressures over the longer term in comparison with officials of some more highly rated sovereigns and we expect repeated divisive debates over raising the debt ceiling," the agency said in a statement.
US government as a percentage of GDP will likely be stable at about 84% for the next few years, S&P said. That may give policy makers additional time to address spending on Social Security and health care, which is expected to grow as the population ages, S&P said.
"The improving U.S. economy is boosting government revenues, the sequester has trimmed spending, and uncertainties about growth in China and Europe make the United States the preferred destination for global investors," said Phillip Swagel, former Treasury assistant secretary for economic policy in the George W. Bush administration and now a professor at the University of Maryland. Automatic budget cuts, known as sequestration, began to go into effect March 1.
Rival agencies Moody's and Fitch currently both hold triple-A ratings on the United States. Moody's has said U.S. policy makers must address debt loads projected to rise later this decade to avoid a downgrade.