Japan's slowing of bold stimulus plan disappoints investors; markets down
Wednesday, June 12th 2013 - 07:17 UTC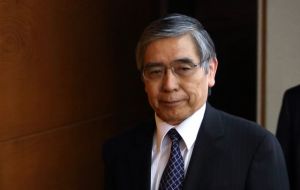 World share indexes have fallen after the Bank of Japan (BoJ) on Tuesday held off taking new measures to calm markets. BoJ governor Haruhiko Kuroda said the central bank would consider fresh steps if borrowing costs spike in the future, but opted against further action now.
The news disappointed some investors, who are worried about the long-term prospects for monetary stimulus programs in Japan and the US.
Stock markets in the US and Europe all finished Tuesday's session lower. In Europe, London's FTSE 100, France's Cac-40 and Germany's Dax ended the day down about 1%. In New York, the Dow Jones finished down 0.76% at 15,122.02. Earlier, Japan's Nikkei 225 index had closed down 1.45% at 13,317.62.
In a statement, the BoJ said that Japan's economy had been picking up and was "expected to return to a moderate recovery path".
Yields on benchmark 10-year government bonds had spiked in late May - indicating that markets expect the central bank eventually to start raising interest rates again.
But Mr Kuroda told a news conference: "With our efforts to give more flexibility to our market operations, volatility in the bond market has stabilised. So there was no imminent need to decide on a new tool now".
Global stock markets have risen significantly since Japanese authorities began a huge program of stimulus measures in April, promising to inject 135 trillion yen (1.4 trillion dollars) into the economy by the end of 2014.
Prime Minister Shinzo Abe, who was elected last year, has been pushing for the Bank of Japan to do more to help the economy. His plan, a combination of big government spending as well as an aggressive central bank asset buying programme, has been dubbed "Abenomics".
Investors have also been encouraged by the US Federal Reserve's continued 85bn-a-month program of quantitative easing (QE), but are now worried about when those stimulus measures will be withdrawn.
Last week the European Central Bank also declined to do more to boost economic growth, while the Fed is discussing when its QE programme will be wound down.