China censors summit picture of Xi-Winnie the Pooh with Tigger-Obama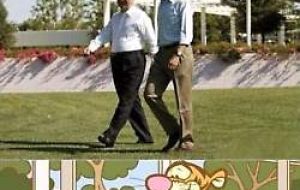 Chinese bloggers got on the wrong side of censors this week when they likened an image of Presidents Xi and Obama at the Sunnylands estate in California to a picture of the popular children's cartoon characters Winnie the Pooh and Tigger.
The image was swiftly deleted from the micro-blogging site Sina Weibo, almost as quickly as a photo-shopped picture of Chinese leaders doing Gangman Style.
As the South China Morning Post pointed out, if China's social media censors had a little more of a sense of humor, perhaps Xi-the-Pooh would have done much to endear China's serious leader to his populace, while helping to repair the world's largely negative image of China.
"Unfortunately China's censors have nipped in the bud what could have been a positive PR campaign tailor-made for President Xi Jinping to potentially woo friends and enemies.
"The disappointing move came after China's net users linked two of the world's most powerful leaders - Xi and US President Barack Obama - as Winnie the Pooh and Tigger this week.
"In a Reuters' photo, Xi is seen strolling side by side with Obama during their Sunnylands, California summit at the weekend. Eagle-eyed netizens were reminded of a similar scene involving the two popular fictional characters, and they eagerly shared their discovery on Weibo.
Pictures were later deleted by censors, who apparently did not appreciate the idea of comparing the Chinese president to a chubby bear.
The two-day summit took place in California, and was Obama's first encounter with Xi Jinping after he became new President of the People's Republic of China