Falklands' hero and 1982 governor Sir Rex Hunt honoured by Foreign Secretary
Thursday, June 13th 2013 - 06:38 UTC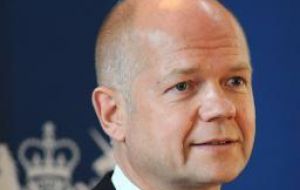 The British Government's, "pride and thanks," was expressed at Sir Rex Hunt's memorial service in London last Tuesday. Sir Rex Hunt was Governor of the Falkland Islands when the Argentine military invasion on 2 April 1982. After the conflict Sir Rex who the Argentines expelled from the Islands returned to this job at Government House in Stanley.
Falklands' former Governor Alan Huckle at the service held in St Clement Danes, the Central Church of the Royal Air Force, read a message sent by the Foreign Secretary William Hague who said he was sorry he was unable to attend.
"I did not wish to let this occasion pass without recording the British Government's pride and thanks for Sir Rex's contribution – and especially for his role in those fateful days of April 1982."
He added that it was probably true that Sir Rex's unremitting advocacy of the Falkland Islanders' perspective often vexed those officials seeking an accommodation with Argentina, in the months and years before the invasion of the Islands.
"But it is rarely wise to seek to be popular: it is far better to be right".
Foreign Secretary Hague said Sir Rex's concerns about Argentina's intentions proved, "all too well founded. His injunctions that the wishes of the Falkland Islands people must always be forefront in any consideration of the Islands' future now form the corner-stone of Britain's policy on the Falkland Islands."
Mr Hague said "his friends and family can take great comfort that, as the events of over 30 years ago recede into an increasingly distant past, Sir Rex and his reputation rest firmly on the right side of history."
He added: "Crises expose character and test mettle. We could not have wished for a better man at the helm when the disaster struck. But Sir Rex's courage, leadership and fortitude not only gave hope to the Islanders and rallied the people of the UK to resist this unprovoked and illegal aggression.
They were also the mark of the man: it is not lightly that the Prime Minister described Sir Rex last year as a 'British hero'."
Rex Hunt's affection for the Falklands was clear for all to see, said Mr Hague "as was the affection that the Falklands held for him. Rex was instrumental in helping to champion the many positive changes in the Falklands that followed the conflict.
"He was proud to lead the Islands in this new adventure. As we look today at the prosperous, democratic, secure and confident Falkland Islands, we have much to be grateful to Sir Rex for: indeed, I am reminded of the epitaph of Sir Christopher Wren: If you seek his monument, look around." (PN)