Paraguay and Mexico advancing towards an economic complementation accord
Thursday, June 13th 2013 - 23:49 UTC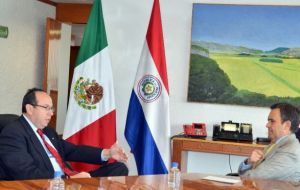 Technical groups from Paraguay and Mexico advanced on Wednesday talks for the creation of an Economic complementation Accord in the framework of the Latam Integration Association, ALADI, which is considered the "step previous to a full free trade treaty", reported from Asuncion Paraguay's foreign ministry.
"The technical groups advanced in the negotiation analysis of the lists of products of common interest from both sides to be included in the complementation accord", said the ministry in a brief release.
"With the purpose of accelerating the process, it was agreed to continue negotiations on rules of origin and Customs procedures, via videoconferences" added the release saying that the next round of talks is to be held next July in Mexico City.
The Paraguayan delegation has representatives from the ministry of Foreign Affairs, Industry and Trade, Finance and Customs. The Mexican side was headed by a representative from the Economics Secretary.
The trade agreement is a requisite for incorporation to the Alliance of the Pacific (Chile, Colombia, Peru and Mexico), where Paraguay is about to the granted observer status.
Paraguay is a founding and full member of Mercosur but has become increasingly disappointed with the results of the block that also includes Argentina, Brazil, and Uruguay and since a year ago, Venezuela.
Argentina's protectionist attitudes and Brazil's barriers to market access have not been encouraging for the small-economies associates, Paraguay and Uruguay.
Besides for political reasons Paraguay a year ago was suspended from the group.