World soccer star Messi involved in alleged fiscal hat-tricks
Thursday, June 13th 2013 - 07:13 UTC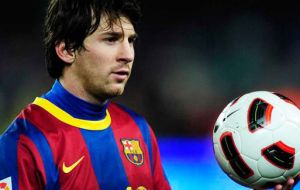 World famous Barcelona and Argentine striker Lionel Messi has declared on his Facebook page that he is "surprised" by accusations in Spain of tax avoidance.
The page says: "We have just known through the media about the claim filed by the Spanish tax authorities. We are surprised about the news, because we have never committed any infringement. We have always fulfilled all our tax obligations, following the advices of our Tax Consultants who will take care of clarifying this situation."
Messi and his father Jorge Horacio have been accused by Spanish tax authorities of defrauding the state of more than four million Euros.
The World Player of the Year and his father allegedly filed fraudulent tax returns for the years 2006, 2007, 2008 and 2009, according to a spokesman for the prosecutor's office for tax crimes in Catalonia.
Messi, who will be 26 this month, is one of the world's highest-paid athletes with a salary of just over 20 million dollars a season, according to Forbes magazine.
On top of his Barca wages, he pulls in around 21 million in endorsements from sponsors including Adidas, PepsiCo and P&G and he is 10th on Forbes' latest list of top-earning athletes.
Messi came on for the final half-hour of Argentina's World Cup 2014 qualifier against Ecuador in Quito on Tuesday which ended in a 1-1 draw.
According to Catalonia prosecutor, Messi and his father made use of Uruguayan finance companies, Goodshire SA, Jenbril SA and Forsy Corporation SA, as well as others registered in Belize, the UK and Switzerland, through which a complex network of contracts and commission payments linked to his commercial image were made.
Spain's leading newspaper El Pais reported that for the prosecution it is evident "that the initiative of elude and defraud taxes comes from Jorge Messi", the father and representative of the player because in 2005, when Lionel was still under age, he contracted a third party for the creation of the first association to avoid taxes, which was later substituted by another.
Under Spanish law such crimes can mean two to six years in jail plus a fine that is two to six times the money defrauded, when the figure is in excess of 600.000 Euros.