Assange prepared to remain in Ecuadorean embassy in London another five years
Monday, June 17th 2013 - 19:25 UTC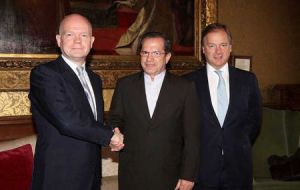 Ecuador will continue to grant WikiLeaks founder Julian Assange asylum at its London embassy, the foreign minister said on Monday after failing to reach a solution to the case with Britain.
Ricardo Patiño said the Australian was prepared to remain in the embassy for another five years if necessary until a diplomatic solution was found, insisting he had no plans to flee.
Patiño was speaking after talks with British Foreign Secretary William Hague ahead of the anniversary on Wednesday of Assange's flight to the embassy to avoid extradition to Sweden, where he is accused of sex crimes.
The two ministers "agreed to keep channels of communication open, but made no breakthrough" during the 45-minute meeting, said a statement from the British Foreign Office.
"Ministers agreed that officials should establish a working group to find a diplomatic solution to the issue of Julian Assange, but no substantive progress was made," it said.
"The foreign secretary (Hague) was clear once again that any resolution would need to be within the laws of the United Kingdom."
Britain has refused to grant the 41-year-old former computer hacker safe passage out of the embassy, and so he remains stuck in the modest apartment indefinitely.