Brazil and UK sign long term cooperation program in biotechnology research
Monday, June 17th 2013 - 16:03 UTC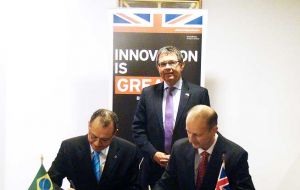 The British Biotechnology and Biological Sciences Research Council (BBSRC) and the Brazilian National Council for Scientific and Technological Development (CNPq) signed a Letter of Understanding to implement a new Cooperation Program to extend the long-term collaboration between the parties.
Steve Visscher, Deputy Chief Executive, signed for the BBSRC while CNPq was represented by its President, Glaucius Oliva.
Activities under the Cooperation Program will include launching calls for research partnership proposals, providing funding for the proposals selected, organizing joint workshops related to common projects and other forms of scientific and technological cooperation
The signed Letter will add new impetus to a long-standing collaboration between scientists from both countries. The UK-Brazil Year of Science & Innovation in 2007, the joint Brazil-UK Agrosciences workshop in 2008 and the establishment of an Embrapa Laboratory Exterior (LabEx) in the UK are just a few important milestones of this relationship.
Glaucius Oliva said on the occasion that CNPq and BBSRC already have a fruitful cooperation over the years and "now we want a program and a scheme which are much more efficient and accessible for researchers in both countries and this is what the signing was all about today. (…) It will open a tremendous door for Brazilian scientists to interact with UK scientists".
The British representative Steve Visscher indicated he was very hopeful about the positive outcome from the program "because this is a further step in building a strong relationship between the UK science base and the Brazilian science base".