Maduro meets Francis: agrees on 'sincere' dialogue with Venezuelan bishops' conference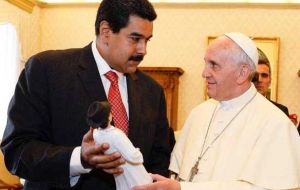 Pope Francis on Monday received in a 20-minute audience President of Venezuela Nicolás Maduro in the hall of the Vatican Apostolic Library. On arrival at the hall known as Sala del Tronetto, the Venezuelan president said it was "an honour" to meet the pope, adding that he was "very impressed" and "happy" to be there. He also thanked the Argentine pope "for everything you are doing".
According to the official Vatican brief report the meeting focused on the social and political situation of the country, after the recent death of President Hugo Chávez as well as on some current issues, such as poverty and the fight against crime and drug trafficking.
"Also discussed was the historical presence of the Church Catholic in the country and its decisive contribution to education, charity, health care and it was agreed that there needs to be a constant and sincere dialogue between the Catholic Bishops' Conference of Venezuela and the State, for the development of the entire nation".
Finally "the meeting focused on the regional situation, with particular reference to the peace process in Colombia".
President Maduro was accompanied by Cilia Flores, and a large delegation composed, among others, by Foreign Minister Elías Jaua, Planning Minister Jorge Giordani, and Petroleum Minister Rafael Ramírez Carreño.
During the traditional exchange of gifts, Maduro gave the Pope a copy of the Venezuelan Constitution, a lithograph of Simón Bolívar, a painting of the Virgin of Coromoto, the patroness of Venezuela, and a sculpture image of Dr. José Gregorio Hernández (1864-1919), who is in the process of canonization.
Regarding Dr. Hernandez, known and revered in Venezuela for his commitment to the poor, Maduro expressed his wish that he will be canonized soon as "the people's saint".
Pope Francis gave Maduro a fountain pen and, as he did with other Latin American leaders, a copy of the conclusions from the meeting of the Latin American Episcopal Conference held in Aparecida (Brazil).
The Pope recommended Maduro to read that or those chapters of the Aparecida document which were of his interest underlining, "I helped to draft the document".
Finally the Venezuelan president asked Francis to bless him and the pope made the sign of the cross on Maduro's forehead.
This is Maduro's first official trip to Europe as Venezuelan president since he took office last April 19.