To silence rationing rumours, Venezuela announces 760.000 tons of imported food is on the way
Tuesday, June 18th 2013 - 02:25 UTC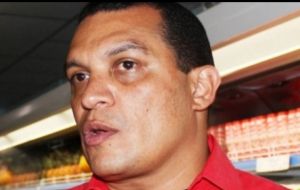 Venezuela is awaiting the arrival of 760.000 tons of food from different associated countries and which are destined to build a national reserve of food, according to Food Minister Felix Osorio. The announcement follows strong suggestions that rationing of certain food and toiletry items was in the pipeline.
"We are working in coordination with allied countries. The food reserve is arriving, we're talking of 760.000 tons of different food items" added Osorio who did not give details of the shipments arrival date, during a tour of several cities that are suffering serious shortages.
Venezuelans have become accustomed in recent years to periodical shortages of different staples and other items such as coffee, sugar, cooking oil, butter, milk, flour and most recently toilet paper, but the situation instead of improving has worsened.
"This administration has taken all the necessary measures. We are not going to restrict the sale of food items. We're going to challenge face-on those rumours (on rationing); we're addressing a temporary situation in the midst of an economic war", said the minister in an interview with national radio and television.
The government blames shortages to lesser production from private companies, of which it accuses of helping generate an overall feeling of discontent to debilitate the already weak administration of President Nicolas Maduro.
However the private sector argue that the lesser supply is caused mainly because of the lack of dollars at the official rate (6.3 Bolivar) to import finished goods and inputs for the local plants and processors.
In Venezuela there is a strict foreign exchange control and the only way to have access to dollars at the official rate means a long cumbersome peregrination along the different bureaucratic offices. Meanwhile the dollar in the parallel market costs five times more, over 30 Bolivar.
Because of the shortage of goods, the Venezuelan parliament recently approved a credit line of over 500 million Bolivar (80 million dollars) to help re-establish normal levels of supply in such basic items as tooth-paste, toilet paper, soap, diapers and sanitary towels.

After attacks on the private sector and certain corporations for allegedly boycotting the domestic market, the government opened a round of talks with business leaders from the different sectors of the economy.
Ironically on Sunday President Nicolas Maduro during a visit to Rome and the Vatican was awarded a special prize from the UN Food and Agriculture Organization, FAO, for Venezuela's initiatives against hunger and lack of nourishment.