India-Argentina pledge to improve trade; Timerman thanks Delhi support on Malvinas dispute
Wednesday, June 19th 2013 - 00:14 UTC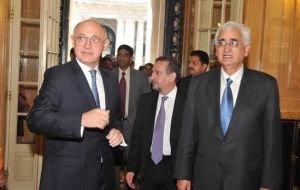 India and Argentina pledged to improve trade relations, particularly in "non-traditional areas" said Argentine Foreign Minister Héctor Timerman alongside his counterpart, Foreign Minister Salman Khurshid, at the end of his visit to India. Timerman also thanked New Delhi for its support in the Falklands/Malvinas dispute.
"Argentina is a strategic trade partner for India with foodstuffs, an ideal partner for agriculture technology and both foreign ministries also mentioned the possibility that India will start allowing Argentine fruit imports," Argentina's foreign ministry said.
Timerman cited the recent award of a 30-million dollar contract to an Argentine company to build a nuclear radioisotope plant in India as an example of the new kind of trade and cooperation that could exist between the two countries, including in areas such as the peaceful use of nuclear energy, agriculture technologies and aero-spatial material.
Minister Khurshid said that India could be interested in investing in mining, mainly potassium, as well as petroleum, gas, renewable energies and the pharmaceutical industry.
On this last point, Timerman emphasized that there is an opportunity to increase trade relations between manufacturers of generic drugs, something in which India is the leader in the global market.
It was also agreed that the Joint inter-government committee organizes a trade mission to analyze in which sectors Argentina could boost its investments in India.
Both countries also ratified their "ongoing coordination on positions in international forums such as the G20, IMF, World Bank and WTO."
For his part, Timerman underlined the importance of working together to achieve success in the next Doha round meeting with the aim of promoting development and not just as a forum to increase free trade "that is only useful to the most developed nations," he said.
Finally and in the week or the UN Decolonization Committee meeting, Timerman thanked India for its support over the Falklands/Malvinas dispute, underlining "India a much respected position" due to its colonial past".