Scientists expect large 'dead zone' in Gulf of Mexico caused by excessive nutrient pollution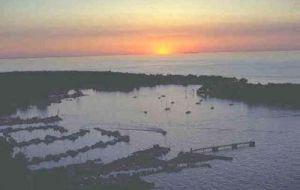 Scientists are expecting a very large "dead zone" in the Gulf of Mexico based on several NOAA (National Oceanic and Atmospheric Agency)-supported forecast models.
NOAA-supported modellers at the University of Michigan; Louisiana State University and the Louisiana Universities Marine Consortium are forecasting that this year's Gulf of Mexico hypoxic "dead" zone will be between 7,286 and 8,561 square miles which could place it among the ten largest recorded.
That would range from an area the size of Connecticut, Rhode Island and the District of Columbia combined on the low end to the New Jersey on the upper end. The high estimate would exceed the largest ever reported 8,481 square miles in 2002.
Hypoxic (very low oxygen) and anoxic (no oxygen) zones are caused by excessive nutrient pollution, often from human activities such as agriculture, which results in insufficient oxygen to support most marine life in near-bottom waters. Aspects of weather, including wind speed, wind direction, precipitation and temperature, also impact the size of dead zones.
The Gulf estimate is based on the assumption of no significant tropical storms in the two weeks preceding or during the official measurement survey cruise scheduled from July 25-August 3 2013. If a storm does occur the size estimate could drop to a low of 5344 square miles, slightly smaller than the size of Connecticut.
This year's prediction for the Gulf reflects flood conditions in the Midwest that caused large amounts of nutrients to be transported from the Mississippi watershed to the Gulf. Last year's dead zone in the Gulf of Mexico was the fourth smallest on record due to drought conditions, covering an area of approximately 2,889 square miles, an area slightly larger than the state of Delaware. The overall average from 1995 to 2012 is 5,960 square miles, an area about the size of Connecticut.
"Monitoring the health and vitality of our nation's oceans, waterways, and watersheds is critical as we work to preserve and protect coastal ecosystems," said Kathryn D. Sullivan, Ph.D., acting under secretary of commerce for oceans and atmosphere and acting NOAA administrator.
"These ecological forecasts are good examples of the critical environmental intelligence products and tools that help shape a healthier coast, one that is so inextricably linked to the vitality of our communities and our livelihoods."
The dead zone in the Gulf of Mexico affects important commercial and recreational fisheries, and threatens the region's economy.