Irish-bred sheepdog 'Bob' is auctioned at a record-breaking €11,000
Friday, June 21st 2013 - 16:29 UTC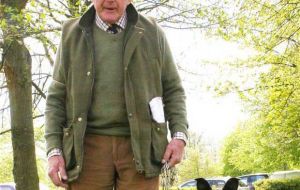 An Irish-bred sheepdog has shot to fame by becoming the most expensive working dog ever sold at an official sale, making almost €11,000 at auction. Bob, a 15-month-old dog sold by John Bell of Parks Farm, Howden, Selby in East Yorkshire, for a record-breaking £9,240 at the working dog sale in Skipton Auction Mart, North Yorkshire, on May 17.
The top bid was taken over the phone from a buyer who wanted to remain anonymous, although it is believed the dog is now destined for a new life in the United States.
Bob was bred in Ireland by Ivan Stevenson from Broughshane, Ballymena, Co Antrim. Bob is by Ivan's own dog Jim. Ivan described the sire as "my best dog ever".
Mr Stevenson is a renowned breeder of dogs, as well as a successful trials competitor, having been a member of the Irish team on five occasions.
He was a member of the championship-winning Irish team at the 2011 World Sheep Dog Trials in Cumbria, England.
Retired farmer John Bell (82) is no stranger to world records, having set four previous ones – and all were set at Skipton sales.
In February 2011, he established the then world record price of £6,300 (€7,348) with a 13-month-old tri-coloured bitch, Dewi Fan. He also received the three highest prices ever paid at official sales for dogs under 12 months old.
In 2012, Mr Bell paid £315 (€367) for Bob as a 13-week-old pup, but last week he sold for almost 30 times that.
"He has been working since he was nine months old. He is a natural and I was expecting a lot of him," Mr Bell said of his latest sale. (Irish Independent).