Main Mercosur obstacle is Argentina, say Brazilian farmers promoting an EU/Brazil trade accord
Friday, June 21st 2013 - 06:03 UTC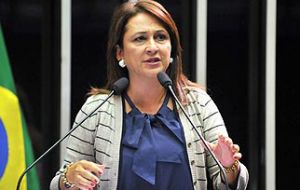 One of Mercosur 'main obstacles' is political and has its origin in Argentina, a country that is 'extremely protectionist', said the president of Brazil's National Agriculture Confederation, CAN, Senator Katia Abreu currently in Brussels promoting the idea of a bilateral Brazil/EU free trade agreement.
"How are we going to advance, how are we going to open markets if one of our members wants to lock us in and slap tariffs on imports", said Senator Abreu, adding "we want an ambitious bilateral agreement with the European Union, but outside the framework of Mercosur".
Senator Abreu said that Brazilian farmers are anxious to reach an agreement that "is good for both sides, be it with Brazil or with Mercosur". The group includes Argentina, Brazil, Paraguay (currently suspended), Uruguay and the latest incorporation, Venezuela.
But "we must admit that Mercosur has become an obstacle" and it would be necessary to change some of its trade practices and procedures to reach an agreement sufficiently ample, as demanded by Brazil's agro-business.
Referring to Argentina, the powerful farmers' leader called for 'pragmatism' and "not to impede the work of the others". Abreu admitted that some Brazilian manufacturing sectors resist an agreement with the EU fearing European competitiveness, although "now I believe things are improving" and there is no reason to be so obstinate.
"There are Brazilian products which are very competitive. Consumers ask for reliability, but also less dear products", said Senator Abreu, and brushed aside that subsidies to the European agriculture are the main obstacle to bilateral negotiations.
The farmers' leader was in Brussels for the opening of the first CNA office in the EU with the purpose of consolidating and increasing the current quotas of Brazilian agriculture produce in the EU and to further promote agreements between the two sides in the farming sector.
"EU consumers want produce at reasonable prices and at the same time demand quality products, reliable and safe, so that is one of the main reasons for us opening the CNA office in Brussels", pointed out the farmers' leader who is also a close friend of President Dilma Rousseff.
CNA is made up of 25 state federations and over 2.1000 farmers' unions, and already has an office in Beijing since November last year. The idea is to design a trade strategy based on alliances, preferably in the private sector to promote Brazilian produce.